Fed's independence at risk - Dodd
The Senate Banking Committee chairman says increasing the central bank's regulatory oversight puts its independence in jeopardy.
Bailout tracker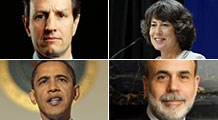 The government is engaged in a far-reaching - and expensive - effort to rescue the economy. Here's how you can keep tabs on the bailouts.
More
WASHINGTON (Reuters) -- Senate Banking Committee Chairman Christopher Dodd said Tuesday that making the Federal Reserve a "systemic risk" regulator could put the U.S. central bank's independence at risk.
"I think those who are advocating the Fed's role in all of this as a systemic risk regulator ought to be prepared to then concede a good chunk of independence of the Federal Reserve," Dodd told reporters. "I think that poses some serious issues."
"If you give them that kind of authority here there will be demands for far more congressional authority over the Fed," he said.
The Obama administration has proposed giving the Fed responsibility for supervising large, interconnected firms whose collapse could jeopardize the entire financial system as part of a broad revamping of U.S. financial regulation.
Dodd, who will play a big role in crafting regulatory reform legislation, has voiced support for the idea of establishing a council to monitor systemic risks. The Obama plan would set up a council of regulators that would help identify the firms to be regulated by the U.S. central bank.
The Fed is facing heightened scrutiny on Capitol Hill for the role it has played in bailing out financial firms.
Last week, the Fed's No. 2 official, Vice Chairman Donald Kohn, told Congress efforts by some lawmakers to open up the central bank's monetary policy and emergency lending decisions to audits would raise the risk monetary policy decisions would become subject to politics.

Features

These Fortune 100 employers have at least 350 openings each. What are they looking for in a new hire? More

It would be the world's second-biggest economy. See how big companies' sales stack up against GDP over the past decade. More