AmEx gets out of TARP
The New York-based credit card and travel services company pays the Treasury $340 million to allow it to escape the bank bailout program.
Bailout tracker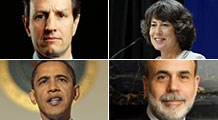 The government is engaged in a far-reaching - and expensive - effort to rescue the economy. Here's how you can keep tabs on the bailouts.
More
NEW YORK (Reuters) -- American Express Co. paid the U.S. Treasury Department $340 million Wednesday to redeem warrants to buy its stock, allowing it to fully escape the government's bank bailout program.
The New York-based credit card and travel services company joins Goldman Sachs Group Inc. (GS, Fortune 500), U.S. Bancorp (USB, Fortune 500), BB&T Corp. (BBT, Fortune 500) and State Street Corp. (STT, Fortune 500) among large financial companies to buy back their warrants, which were issued under the federal Troubled Asset Relief Program.
JPMorgan Chase & Co. (JPM, Fortune 500) decided to let the government auction its warrants rather than pay an inflated price for them.
American Express (AXP, Fortune 500) last month bought back $3.39 billion of preferred shares it had issued to the government under TARP.
It said the cost of buying back the government's warrants to buy 24.3 million shares, together with the $74.4 million of dividend payments it made on the preferred shares, gave the government an annualized 26% return on its investment.
Many companies initially welcomed the infusions but later viewed them as a stigma that suggested weakness. Some have also chafed at TARP restrictions, including on executive pay.
American Express said the cost to buy back the warrants in part reflects the company's rising share price, which traded in the teens and low-20s in January.
The shares were up 20 cents at $27.88 in Wednesday afternoon trading on the New York Stock Exchange. American Express is part of the Dow Jones industrial average.

Features

These Fortune 100 employers have at least 350 openings each. What are they looking for in a new hire? More

It would be the world's second-biggest economy. See how big companies' sales stack up against GDP over the past decade. More