Stocks retreat as jobs report looms
Markets slip as investors bail out of issues that helped lead the recent rally. July employment data weighs on Wall Street.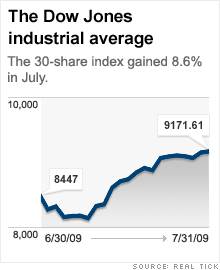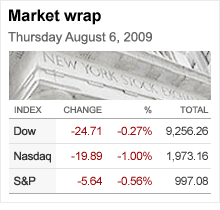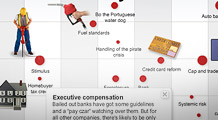 200 days in, the President is going for broke. Click for analysis of where he's succeeding - and where he's not.
NEW YORK (CNNMoney.com) -- Stocks dipped Thursday -- ahead of the closely watched July jobs report -- with investors bailing out of tech, financial and commodity shares in a step back from the big rally of the past month.
The Dow Jones industrial average (INDU) lost 25 points, or 0.3%. The S&P 500 (SPX) index fell 5 points, or 0.6%. The Nasdaq composite (COMP) shed 20 points, or 1%.
Friday brings the week's biggest economic report, the July jobs report. Employers are expected to have cut 328,000 jobs from their payrolls after slashing 467,000 jobs in the previous month, according to Briefing.com. The unemployment report, generated by a separate survey, is expected to have inched up to 9.6% from 9.5% last month.
A worse-than-expected report could cause a big selloff on Wall Street, especially after the recent run up stocks have had.
"The June numbers were worse than expected and stocks reacted badly," said Kenny Landgraf, principal and founder at Kenjol Capital Management. "You could see the same thing tomorrow if this report is too far off the estimates."
He said that investors know the labor market is a lagging indicator for the economy, but nonetheless, the rising unemployment rate is alarming.
Stocks surged in July and touched multi-month highs earlier this week, on relief that the economy and corporate profits seem to be close to stabilizing. But after hitting those levels Tuesday, stocks have slipped, with investors cashing out of some of the big winners during the run.
Stocks have been more or less on the rise since the S&P 500 closed at 12-year lows on March 9. Since then, the S&P 500 has gained nearly 48%.
The bulk of that advance came through mid-June, before stocks dipped in anticipation of weaker earnings. But a better-than-expected reporting period has recharged the advance.
"I think we're preparing for a leg three of the rally, powered by better-than-expected economic reports," said John Merrill, chief investment officer at Tanglewood Wealth Management.
He said that the next wave of the advance could take hold now or could be delayed by a small selloff of maybe five percent to seven percent on the S&P 500.
"The economy is starting to improve because of inventory restocking, Asian growth and government stimulus, like the Cash for Clunkers program," Merrill said.
Cash for Clunkers gives consumers a rebate of up to $4,500 in exchange for trading in a gas guzzler and buying a more fuel-efficient auto. The Senate is expected to approve another $2 billion in funding for the program shortly.
Economy: The number of Americans filing new claims for unemployment to 550,000 last week from 588,000 in the previous week. Economists surveyed by Briefing.com thought claims would rise to 580,000, according to Briefing.com forecasts.
The report was the latest lead-in to the monthly figures.
On Wednesday, the monthly report from payroll-services firm ADP showed that private-sector employers cut 371,000 in July, worse than expected, but the smallest monthly total since October.
A tepid batch of July retail sales from the nation's chains, released Thursday, showed the impact of the sluggish labor market.
Results: Late Wednesday, tech bellwether Cisco Systems (CSCO, Fortune 500) reported lower revenue that met estimates and lower earnings that topped estimates. Looking forward, the company cut its current-quarter revenue outlook and CEO John Chambers said it was too soon to call a recovery. Shares of the Dow component were little changed Thursday.
AIG (AIG, Fortune 500) continued to rise Thursday as investors piled in ahead of its quarterly results, due out Friday. The troubled insurer, 80% owned by the government, has nearly doubled its value this week, despite remaining mired in debt.
Other troubled financials rallied too, including mortgage lenders Fannie Mae (FNM, Fortune 500) and Freddie Mac (FRE, Fortune 500), which were taken over by the government last year.
The rest of the financial sector was mixed, with Dow component American Express (BAC, Fortune 500) up 3% and JPMorgan Chase (JPM, Fortune 500) down 2.5%.
Procter & Gamble (PG, Fortune 500) slumped after the Dow component reported weaker quarterly results Wednesday and warned that it would post lower profit in the current quarter as well.
Oil and gold: U.S. light crude oil for September delivery fell 3 cents to settle at $71.94 a barrel on the New York Mercantile Exchange, erasing bigger morning losses. Oil prices have been gaining over the last few weeks on bets that the global economy is close to turning a corner.
Big oil stocks slipped, including Dow components Chevron (CVX, Fortune 500) and Exxon Mobil (XOM, Fortune 500).
COMEX gold for December delivery fell $3.40 to settle at $962.90 an ounce.
Bonds: Treasury prices fell, raising the yield on the benchmark 10-year note to 3.75% from 3.74% late Wednesday. Treasury prices and yields move in opposite directions.
Other markets: In global trading, European and Asian markets rallied.
In currency trading, the dollar gained versus the euro and the Japanese yen.

Features

These Fortune 100 employers have at least 350 openings each. What are they looking for in a new hire? More

It would be the world's second-biggest economy. See how big companies' sales stack up against GDP over the past decade. More