The incredible shrinking home
The size of newly built homes fell in 2008 for the first time in almost 15 years. Is the McMansion era on the wane?
301 Moved Permanently
---
nginx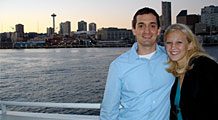 Thanks to sinking home prices, these 5 homebuyers were able to score deals in areas they couldn't previously afford.
NEW YORK (CNNMoney.com) -- For the first time in almost 15 years, the size of new homes built in the United States is shrinking.
New homes are now 7% smaller -- or the size of one average-sized room. To be precise, the median square footage of newly built homes fell to 2,065 square feet in the first three months of this year, compared with the same period last year, according to the U.S. Census Bureau.
This caps off 2008, when home size fell every quarter, marking first year of declines since 1994. That could indicate that the romance between Americans and morbidly obese McMansions has finally cooled.
"A new ethic is arising right now that will become commonplace -- as commonplace as is recycling today, when just a few decades ago it was rarely, if ever, done," said Sarah Susanka, author of the book, "The Not So Big House."
"As more and more people build or remodel homes that satisfy in quality rather than quantity, there will be a huge shift in what we perceive as desirable."
She believes the current shrinking trend mimics one of 100 years ago, when simple bungalows supplanted elaborate Victorian homes as the design choice for many Americans.
But, it could also just be the recession.
"Home size gains flatten out or decline during recessions, and we're in the midst of the most serious housing recession in decades," said Kermit Baker, the chief economist for the American Institute of Architects.
It's also hard to know whether the trend is a the result of a change in attitudes or a change in buyers, according to Kira McCarron, the chief marketing officer for Toll Brothers, an upscale homebuilder.
The recession could have led to a temporary turndown in the number of young families buying homes, for example. But when they return to the market, they may drive up McMansion sale again. Meanwhile, older buyers are dominating sales.
"The active adult product is taking a bigger share of the market right now," said McCarron, leading to more small homes and dragging the average new home-size data down.
She added that some cities, such as Seattle, have instituted "smart growth" plans that encourage development in core areas, leaving large patches of green, undeveloped territory further out.
Since it effectively limits development to a few, already densely populated parts of town, available land in those areas becomes more expensive, sending up the average per-square-foot of new homes. That, of course, discourages McMansion development.
Influencing factors
There are many practical reasons currently at work that favor smaller homes, according to Steve Melman, director for economic services for the National Association of Home Builders (NAHB).
Affordability: That drives everything, Melman said. People tend to buy as much home as they can comfortably afford and, with the economy in turmoil, they simply don't feel at ease spending today.
Energy costs: When the price of oil rose to more than $147 a barrel in July 2008, it drove up all the costs of homeownership. Heating and cooling costs soared, but so did electricity costs. And bigger houses have more lights and appliances. Energy costs also contributed to price increases on building materials, making bigger homes that much more expensive to construct.
Aging boomers: Demographics may have contributed to the smaller home trend. More and more aging baby boomers have become empty nesters. Some of them are downsizing, according to Melman.
Tight credit for big mortgages: Jumbo loans needed to pay for these types of houses have been harder to get and more expensive. That would discourage building in this category.
No real sacrifice
But small-home buyers don't have to sacrifice if the house is well designed, said Susanka. "If you use a room less than six times a year, you don't need it," she explained. "Or make it do double duty."
A rarely used formal dining room, for example, could double as a library. A den could be where the kids do their homework. And do you really need a separate living room, family room and home theater?
"Houses are likely to become better tailored to the way we actually live," she said. "As more and more people build or remodel homes that satisfy in quality rather than quantity, there will be a huge shift in what we perceive as desirable. Just as the bungalows of a century ago supplanted the Victorian painted lady, 'Not So Big' houses are likely to become the sought after alternative to the McMansion."

Features

These Fortune 100 employers have at least 350 openings each. What are they looking for in a new hire? More

It would be the world's second-biggest economy. See how big companies' sales stack up against GDP over the past decade. More