AIG stock soars on CEO's optimism
Investors cheer new CEO Robert Benmosche's hopes that the insurer can pay back the taxpayer while maintaining value to its shareholders.
Bailout tracker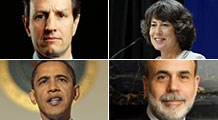 The government is engaged in a far-reaching - and expensive - effort to rescue the economy. Here's how you can keep tabs on the bailouts.
More
NEW YORK (CNNMoney.com) -- Shares of AIG jumped as much as 31% Thursday after newly appointed CEO Robert Benmosche said he was optimistic about returning the troubled insurer to its former glory.
"At the end of the day, we believe we will be able to pay back the government and we hope we will be able to do something for our shareholders as well," Benmosche told Bloomberg in an interview while on vacation in Croatia. "My first charge is to get the company to operate at the level it used to operate, being the world's best."
Shares closed 21% higher on Thursday.
AIG (AIG, Fortune 500) was once the world's largest insurer but is now just a shadow of its former self. The company owes taxpayers more than $80 billion of a $182 billion bailout, which it plans to pay back by selling off many of its assets.
But those asset sales have been slow-going and sold at depressed values thus far, as credit remains tight. AIG has made just over $9 billion on those deals so far.
As a result, AIG has agreed to spin off three huge chunks of its business, selling stakes in two of them to the Federal Reserve. In exchange, when the deal is finalized later this year, the insurer's loan will be reduced by $25 billion.
The company will still have more than $55 billion to pay back to taxpayers by selling off other assets. But Benmosche said he is not discouraged -- or being encouraged -- to sell assets for below market value.
"The government is working with us. They want us to do things that are very prudent," he said. "The fact is we owe the U.S. government a lot of money and we are not going to be able to pay it back just by our profits, so we will sell some of the company off, but only at the right time at the right price."
For instance, Benmosche halted the auction of AIG Advisor Group last week, after deciding it was essential to AIG's retirement business. Though the government hopes for a speedy payback, AIG's stability and success as an insurance company is critical to it paying back the taxpayers.
Payback: Retired AIG CEO Edward Liddy reiterated earlier this month that the company would likely be able to repay the government in full in three to five years.
The bailed out insurer took home a profit of $1.8 billion in the second quarter -- its first since the third quarter of 2007 -- but it will not use those profits to repay the taxpayers. The company said it won't likely be able to sustain a string of profitable quarters, as it will take hefty restructuring charges for its looming core asset sales.
Prior to joining AIG, Benmosche was the CEO of MetLife (MET, Fortune 500) until he retired in 2006. He oversaw MetLife's transition from a private to a public company, which experts say gave him the experience necessary to lead AIG's transition from the world's biggest insurer to a much smaller domestic life insurance company.
But Benmosche also has to deal with the ongoing distraction of hundreds of millions of dollars in bonuses that have still yet to be paid to employees of its troubled Financial Products unit. The company became the subject of a public uproar after the revelation in March that AIG paid $165 million in bonuses to employees of the division that nearly brought the company to its collapse.
Benmosche's own compensation plan made news Tuesday, after the company filed an SEC filing that said the new CEO will take home a salary, stock options and a bonus that are worth around $10.5 million a year.

Features

These Fortune 100 employers have at least 350 openings each. What are they looking for in a new hire? More

It would be the world's second-biggest economy. See how big companies' sales stack up against GDP over the past decade. More