How banks really used TARP money
A TARP overseer releases banks' statements on how they spent TARP money and how they are complying with pay restrictions.
Bailout tracker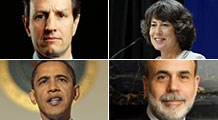 The government is engaged in a far-reaching - and expensive - effort to rescue the economy. Here's how you can keep tabs on the bailouts.
More
NEW YORK (CNNMoney.com) -- If you're looking for the most detailed look yet about how banks have used funds from the $700 billion bailout, you're in luck.
That is, if you are willing to pour through thousands of pages of surveys.
Neil Barofsky, special investigator general of the Troubled Asset Relief Program, released the bailed out banks' responses to letters he sent them in early February on Thursday.
Barofsky asked them how they used TARP funds and how they are complying with executive pay restrictions. A report on the spending question was released in July, and another on the executive compensation was released Wednesday.
The question of how banks have used their TARP funds has been a source of particular interest among lawmakers and the public, who want to ensure banks are using taxpayer-provided dollars wisely. Many banks have been criticized for not using TARP money to lend to consumers and small businesses who are creditworthy.
The Treasury Department does not require banks who have received the money to show how they are using it, claiming that it is not possible to demonstrate on a bank-by-bank basis.
But banks did shed some light on how they used TARP funds -- although not much.
For instance, Bank of America (BAC, Fortune 500), which has received $45 billion of taxpayer funding, said that TARP enabled them to "avoid lending less."
Citigroup (C, Fortune 500), which also received $45 billion of TARP funds, said the bank formed a committee made up of senior executives to review all uses of its federal bailout.
The bank said it has not used the funds to support its expenses, but it has instead used it to support "lending initiatives, financing transactions, ... the provision of credit to Citi's credit card customers and purchases of loans and securities in the secondary market that have the effect of increasing liquidity."
CIT (CIT, Fortune 500), the small business lender whose bid for fresh bailout money recently was rebuffed, said the $2.3 billion in TARP money it has received helped the bank to gain enough capital to become a bank holding company. That status allowed it to raise deposits to fund its financing operation.
As of March 6, when CIT responded to Barofsky, the bank said it originated $1.5 billion of loans, which would not have been created without TARP.
"If we had not received TARP funds at the end of 2008, we intended to significantly reduce or eliminate new lending volumes significantly through 2009," the lender said.
Nonetheless, not even TARP was enough to really help CIT. The company barely avoided bankruptcy after the government refused to give it more funding, CIT was forced to secure a $3 billion emergency loan from bondholders last month.

Features

These Fortune 100 employers have at least 350 openings each. What are they looking for in a new hire? More

It would be the world's second-biggest economy. See how big companies' sales stack up against GDP over the past decade. More