Hooray for banks that refused bailouts!
A group of banks that turned down TARP funds have outperformed banks that received gobs of support. It just goes to show that not all banks needed a rescue.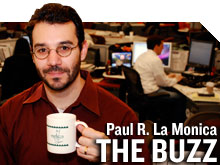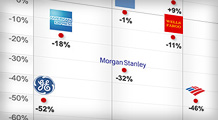 Key financial firms received a wide range of assistance during the past year. But scroll over their stocks and you'll find few winners – and plenty of losers.
More
NEW YORK (CNNMoney.com) -- It's nearly one year after the big crash, and the financial system is still functioning.
Most banks didn't go out of business or get taken over. Your ATM still spits out cash, and Wall Street seems to be returning to some sense of normalcy.
That's obviously good news. And what's even more encouraging is that the age of big bank bailouts is hopefully coming to a close.
Treasury Secretary Timothy Geithner said Thursday in an appearance before the Congressional Oversight Panel that it is time to "begin winding down some of the extraordinary support we put in place for the financial system."
Extraordinary support is an understatement. AIG (AIG, Fortune 500) has become a ward of the state. Taxpayers now own a third of Citigroup (C, Fortune 500). And Bank of America (BAC, Fortune 500) has received $45 billion in funding from the Troubled Asset Relief Program, or TARP.
But as we all look back on the events of the past year, it's important to remember that not all banks and financial firms got blinded by greed and stung by reckless behavior.
It's tempting to demonize the entire banking world. But there are several regional and community banks that had the guts to tell the government that they didn't want any bailout money because they didn't want to be beholden to the Treasury Department. And, perhaps more importantly, they simply didn't need it.
I've dug up, with the help of research available on TARP tracker Bailoutsleuth.com, at least 54 publicly traded banks that explicitly refused to take part in TARP. And it's worth pointing out that several of them are decent-sized.
Hudson City Bancorp (HCBK) and People's United Financial (PBCT) are both in the S&P 500. Commerce Bancshares (CBSH), BOK Financial (BOKF) and NY Community Bancorp (NYB) are among the 50 largest banks in the country as ranked by assets, according to figures from the Federal Reserve.
That's interesting considering many big-bank executives argued that they only took TARP funds because they were strong-armed into do it and thought not taking the cash would make them look weak and unworthy of government support. That justification sounds pretty bogus now.
Consider this: Shares of the 54 banks that didn't want a bailout are, on average, down just 16% since last September. That's compared to a 30% drop for the KBW Bank Index and 36% plunge for the S&P Regional Bank Index.
And why did these TARP-shunning banks hold up better than their peers? They didn't get involved in as much risky subprime lending as other banks. In fact, only three of these 54 banks reported a loss over the past four quarters.
What's more, the banks that just said no are, on average, expected to report a 17% increase in profits this year. And the average dividend yield for the group is an impressive 3.3% -- a testament to the fact that many of these banks were not forced to slash their dividends to preserve capital.
Now don't get me wrong. I'm not suggesting that TARP was a mistake and that the government should have simply let the free markets run amok. I argued a year ago that the bank bailouts were a necessary evil to save the financial sector from a complete meltdown.
I took a lot of flack for that stance, but I still think that the government had no choice but to launch TARP and other government alphabet-soup programs in the wake of Lehman Brother's collapse.
That doesn't mean I am happy to be putting taxpayer dollars at risk to undo the mistakes that were caused by greed and recklessness. And the handling of the bailouts by both the Bush and Obama administrations has been, to put it mildly, sloppy.
But instead of focusing so much attention on what went wrong, the one-year anniversary of Lehman's death is also a good time to remember that many regional banks did the right thing.
They stuck to sound lending practices and didn't wind up needing you and me to bail them out.
And they didn't get punished for refusing to bow down to Wall Street's myopic short-term obsession with the next quarter's results. By sticking to their guns, they not only continued to make a profit and stay off the government dole, they also rewarded shareholders.
Hopefully the banking giants will take notice.
Talkback: Did the banking bailout work? Share your comments below.

Features

These Fortune 100 employers have at least 350 openings each. What are they looking for in a new hire? More

It would be the world's second-biggest economy. See how big companies' sales stack up against GDP over the past decade. More