Oil drops below $68
Stronger dollar lowers crude prices.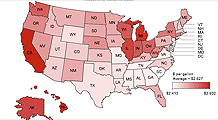 Prices at the pump can vary widely among states due to a number of factors.
More
NEW YORK (CNNMoney.com) -- Oil prices dropped below $68 a barrel Monday as the dollar gained strength after hitting lows against major currencies last week.
Crude for October delivery fell 43 cents to settle at $68.86.
"Some of the elements that worked to push up oil prices recently are going the other way now," said MF Global energy analyst John Kilduff.
The dollar index, a gauge for the greenback's performance against six major currencies, stood at 76.931 Monday, up from 76.608.
But if the dollar returns to its weakness against the euro and the pound, Kilduff says crude prices could tick back up.
Crude oil, like other commodities, is priced in dollars, so a weaker greenback can help support prices.
Kilduff also expects oil prices to recover as a Nigerian rebel group ends its 60-day ceasefire Tuesday, supporting prices through the end of the week. Nigeria is one of Africa's strongest oil producers, and a major source of U.S. oil imports.
With supportive geopolitical factors, a weak dollar and improving economic indicators including jobless claims, "there's more room for the upside," said Kilduff, who expects oil prices to reach upwards of $80-$85 a barrel before the end of the year.
Gasoline prices. The national average price for a gallon of regular unleaded gas decreased to $2.572, down one tenth of a cent from the previous day's $2.573, according to motorist group AAA.

Features

These Fortune 100 employers have at least 350 openings each. What are they looking for in a new hire? More

It would be the world's second-biggest economy. See how big companies' sales stack up against GDP over the past decade. More