U.S. wants AIG bonuses curtailed
SigTARP Barofsky says Treasury missed opportunity to head off controversy over payments to employees - says Obama pay czar now wants them cut.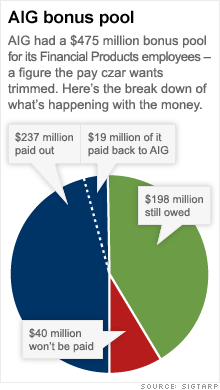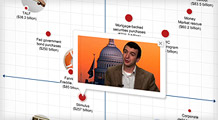 The collapse of Lehman led to a deeper recession and a litany of government programs to try to end the pain. We rate just how bold and effective the plans have been so far.
NEW YORK (CNNMoney.com) -- The Treasury Department, after missing an opportunity to rein in controversial bonuses to AIG employees last year, is now pressing the bailed out insurer to reduce a $198 million bonus pool, according to an overseer's report released Tuesday.
Neil Barofsky, the special inspector general of the $700 billion bailout program, said that Treasury pay czar Kenneth Feinberg has recommended to AIG that the full $198 million not be paid out in full.
Feinberg has not yet made a specific recommendation to AIG about how much the insurer should reduce the payments, according to Barofsky.
Barofsky, in a report reviewing AIG's bonuses, also said Treasury should have made a greater effort to understand the scope and scale of AIG's bonuses.
Treasury instead deferred its oversight of AIG's bonuses to the Federal Reserve, which gave AIG (AIG, Fortune 500) the majority of its bailout, according to the report.
Barofsky, whose office was established by the Troubled Asset Relief Program, said Treasury failed not only to be "reasonably aware of challenges of a financial sort that could negatively impact taxpayers' economic returns, but also obligations ... that could negatively impact the credibility of the TARP and Treasury itself."
Treasury could have avoided the controversy that erupted in March 2009 when the public and Congress first learned about the bonuses, Barofsky said. Treasury Secretary Tim Geithner learned of the bonuses just a week before they became public and endured much scrutiny for allowing the bonuses to be paid out.
"Treasury's failure to discover the scope and scale of AIG's executive compensation obligations, in particular at AIG Financial Products, potentially resulted in a missed opportunity to avoid the explosively controversial events," said the report.
Treasury, in a response included in Barofsky's report, said it welcomed the overseer's comments. It said it was already working to address the report's critique and would implement recommendations such as doing a better job sharing information with other regulators.
Barofsky is due to testify before the House Oversight Committee on Wednesday at 10 a.m. ET about the report's findings.
Controversial bonuses: The most controversial of all the bonuses were $475 million in retention payments to employees of AIG's Financial Products unit.
The Financial Products employees wrote insurance contracts, called credit default swaps on highly complex financial instruments like mortgage-backed securities. The value of the underlying assets fell dramatically during the housing slump and led AIG to start hemorrhaging money in late 2007. The insurer posted nearly $100 billion of losses in 2008.
The retention bonuses for the 400 employees of the Financial Products division were designed to keep the unit's staff on board to wind down the company's trillions of dollars in credit default swaps.
AIG scheduled the retention payments in three installments: $69 million in December 2008, $168 million in March 2009 and $238 million to be paid in March 2010. But since many employees have left the company, $40 million of the final installment will not be paid out.
AIG has said it owes about $198 million to be paid by March 2010. AIG asked Feinberg to review the remaining retention payments due to the intense public scrutiny over them.
The company has argued that the payments are necessary to retain employees of the Financial Products unit who are uniquely qualified to take necessary steps to pay back the government.
Though Barofsky acknowledges that many Financial Products employees are needed to unwind AIG's credit-default swap portfolio, the report also shows that bonuses were paid to non-essential personnel at the Financial Products unit, including $7,700 to a kitchen assistant, $700 to a file administrator and $7,000 to a mailroom assistant.
"AIG continues to discuss a variety of compensation issues with the Special Master, including future payments to employees of AIG Financial Products," said Christina Pretto, spokeswoman for AIG. "In the meantime, those employees are making considerable progress in unwinding trades and reducing risk at AIGFP."
After the controversy escalated, AIG asked Financial Products employees who took home more than $100,000 in retention awards to give back half of their bonuses. So far, AIG has gotten pledges to return $45 million, but has only gotten $19 million back.
"FP employees have until the end of the year to fulfill their commitments to return a portion of their March 2009 payment," Pretto said. "We expect FP employees will honor their commitments."
Overly complicated: Barofsky's report said that AIG is having trouble getting a handle on its own bonuses: The company's 2008 bonus structure was so complex that even AIG can't figure it out.
The company has roughly 630 separate compensation programs for bonuses, retention and deferred compensation totaling about $1.77 billion.
According to the report, AIG officials said the company doesn't have an integrated data system. Payroll data exists on 60 separate systems across the company. Also, the company has 106,000 employees receiving compensation of some kind in 130 different countries -- each nation with their own regulations and restrictions on bonuses.

Features

These Fortune 100 employers have at least 350 openings each. What are they looking for in a new hire? More

It would be the world's second-biggest economy. See how big companies' sales stack up against GDP over the past decade. More