Big pay cuts ... what about Goldman?
Pay czar Kenneth Feinberg cut the pay of 175 employees at the top seven bailed-out companies, but some are calling for curbs at other firms as well.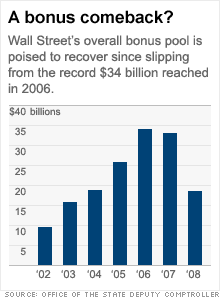 Bailout tracker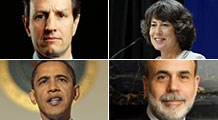 The government is engaged in a far-reaching - and expensive - effort to rescue the economy. Here's how you can keep tabs on the bailouts.
More
NEW YORK (CNNMoney.com) -- The Obama administration's pay czar is imposing tough cuts on 175 big earners -- but many on Wall Street are still on track for a banner payday.
Kenneth Feinberg, appointed the Treasury's special master for compensation in June, has ultimate say over compensation for the top paid employees at the 7 most bailed-out companies: AIG (AIG, Fortune 500), Bank of America (BAC, Fortune 500), Citigroup (C, Fortune 500), General Motors, Chrysler, GMAC and Chrysler Financial.
In a policy announced Thursday, Feinberg demanded salary cuts of up to 90%, and total reductions -- including stock and options -- of 50%.
But Feinberg's ruling does not impact other financial firms that are on track to pay out record bonuses, like Goldman Sachs (GS, Fortune 500), Morgan Stanley (MS, Fortune 500) and JPMorgan Chase (JPM, Fortune 500).
Revenue projections for those firms keep rising, and analysts say bonuses will be back on track for another record year following a one-year dive in 2008. Goldman Sachs said last week that it set aside $16.7 billion for salaries, employee stock options and bonuses, which works out to about $526,814 per employee.
"The whole bailout situation has raised a lot of questions about fairness," said Eleanor Bloxham, chief executive of The Value Alliance and Corporate Governance Alliance. "It's important to have similar rules for everyone, especially as we get into the broader issue of oversight."
Bloxham said compensation is a concern at every financial institution. Executives who are paid in large dollar amounts regardless of company performance could be inclined to make riskier bets.
The more than 600 companies that have received capital investments from the $700 billion bailout are subject to executive compensation curbs, including limits on perks and golden parachutes.
No bailout, no pay regulation ... yet. Companies like Goldman and JPMorgan, which have paid the government back the billions of dollars in bailout funds they received from taxpayers, are no longer under the scrutiny of Treasury.
For those companies and others that never received TARP funds, lawmakers are examining other ways of regulating executive pay. A "Say on Pay" bill that would give shareholders the ability to issue a non-binding statement on executive compensation passed a House vote in August and is likely to land on President Obama's desk in the coming months.
Financial firms have largely agreed executive compensation needs to be more closely aligned with performance, but almost all have said that they can handle the issue themselves.
"From my view, I'm a capitalist, I think it should be left to us," John Mack, chief executive of Morgan Stanley, told CNNMoney last week.
Others argue regulators need to have an even heavier hand in companies' executive compensation decisions, especially since the government has played an important role in the success of those companies.
Even financial firms that have paid their TARP loans back are still benefiting from the bailout, as many of their counterparties are are able to do business with them thanks in large part to taxpayers' capital investments.
"From a TARP perspective they paid their money back," bailout overseer Neil Barofsky told CNN on Wednesday. "I think there's a frustration that they're the beneficiaries of other government programs that have let these companies rely on cheap profits."
In a report released Wednesday, Barofsky said that market behavior and performance has been positively impacted by the massive infusions of government capital. As a result, banks are getting healthier, financial stocks are soaring, and bonuses are expected to hit a record in 2009.
Bloxham, for one, believes the government should have a role in restricting wildly out-of-whack pay packages. She suggests the SEC and the Fed should draft enforceable guidelines for executive compensation at companies that ensure businesses are not engaging in practices that could bring the whole financial system down.
Why only seven. The official reason is that the Treasury Department gave Feinberg the power to regulate pay at any of the companies that have received "extraordinary assistance" beyond the more than 600 firms that have gotten capital investments from taxpayers.
To be sure, those companies are a good start. AIG is probably the most reviled company in the world. Bank of America is under investigation for lying to its shareholders about bonuses. Once mighty Citigroup is in the process of splitting its business in two. And the automakers went through very public bankruptcies.
Some experts believe that the government is trying to make an example of these seven firms, hoping that others will fall in line.
"The government is trying to use these guys as examples for what other companies should do," said Ken Raskin head the executive compensation practice at White & Case. "Every layman has heard about these companies and most want to see government action on them."
"But to do the same for another 100 companies would be, perhaps, an insurmountable task," he added.
Raskin believes that Feinberg's authority should end with the seven top banks, as the government would otherwise be perceived as overstepping its bounds, especially for companies that are not TARP recipients.

Features

These Fortune 100 employers have at least 350 openings each. What are they looking for in a new hire? More

It would be the world's second-biggest economy. See how big companies' sales stack up against GDP over the past decade. More