Dow surges to 13-month high
Signs of continued global recovery and talk about deals boost to investor confidence. Dow gains 200 points; Nasdaq and S&P 500 jump 2%.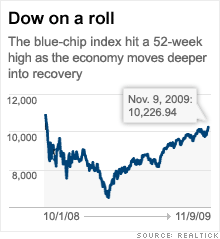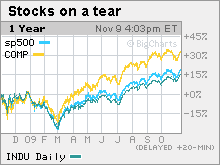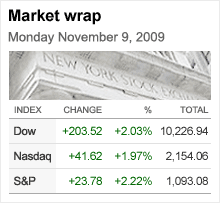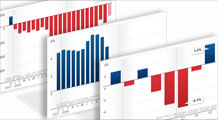 The economy has grown for five straight quarters, but there are signs that the recovery is still fragile.
NEW YORK (CNNMoney.com) -- Stocks rallied Monday, with the Dow industrials surging to a 13-month high, as investor optimism gained momentum.
The Dow Jones industrial average (INDU) soared 204 points, or 2%, to close at 10,226.94 -- its highest level since Oct. 3, 2008.
The gains were broad-based, with all but 1 of the 30 components in the blue-chip index closing higher. Financial and commodity-related shares led the advance.
The S&P 500 (SPX) gained 24 points, or 2.2%, to settle at 1,093.07 and the Nasdaq composite (COMP) rose 42 points, or 2%, to close at 2,154.06.
Stocks rallied right out of the gate Monday after the Group of 20 said over the weekend that it would keep economic stimulus in place.
With little news on tap for this week, "psychological factors and technical levels are driving 70%-80% of this market," said Financial Enhancement Group analyst Joe Clark.
"The market does create its own psychology," he added. "You would never go to the grocery store and pay a higher price because someone else did, but that's what happens in stocks -- the momentum that's happening today after G-20."
Finance ministers of the G-20 met over the weekend and pledged to continue government aid. The dollar fell sharply against the euro and British pound, while commodities and commodity-linked stocks rose.
In "a bit of a dead week" in terms of economic reports, investors will take their cues from other news events, Clark said.
"People are reading the news and pondering all of it," Clark said. "Some stories might be enough for a quick boost, but as far as overall recovery most people are saying, 'We'll believe it when we see it.'"
Oil, gold and the dollar. U.S. oil for December delivery rose $2 to settle at $79.43 a barrel, after sinking almost 3% on Friday's mostly negative labor market report.
COMEX gold for December delivery rose to an intraday record of $1,109.90 Monday before it pared gains to settle up $5.70 at $1,101.40 per ounce.
"The story's all about gold and the dollar," said Charles Smith, chief investment officer at Fort Pitt Capital Group.
With the dollar back at $1.50 against the euro for the first time in a few weeks, "the dollar scare has started again, with people piling into gold," Smith said. "I don't believe inflation is a valid concern, but that's what's moving investors."
Stocks had bounced back last week, with the Dow reclaiming the 10,000 mark. So far in 2009, the Dow is up about 15% and the Nasdaq composite has soared 35%.
S&P and technical trading. Financial Enhancement analyst Clark said more investors have "moved into the technical trading world."
Clark said professional investors had been holding out for the S&P 500 to cross 1,060, viewing the level as a signal it was safe to re-enter the market.
Still others are holding out for when the S&P crosses 1,100 and remains steady above that mark, he said.
"There are people on the sideline viewing this as an opportunity to get in," Clark said. "Personally, I'll be be happy when I see the S&P holding above 1,100 -- even though it's psychological rather than technical."
Eyeing corporate deals. With no significant economic indicators on Monday's docket, investors focused on corporate news, particularly talk about deals -- possible and completed.
Kraft (KFT, Fortune 500) launched a $16.3 billion hostile takeover bid Monday for British candymaker Cadbury after the deadline for the initial bid passed without a deal. Cadbury rejected Kraft's initial $16.7 billion offer in early September and again turned it down.
Comcast (CMCSA, Fortune 500) and GE (GE, Fortune 500) have reportedly agreed on the worth of NBC Universal. The agreement is a major hurdle cleared for Comcast as it aims to gain control of NBC Universal.
Northrop Grumman (NOC, Fortune 500) has sold its consulting arm to two private equity firms. The $1.65 billion deal was announced Sunday.
"Most of these deals have been viewed as positive for the market," said Paul Radeke, wealth advisor at KDV Wealth Management. "It's a view of consolidating domestic opportunity, rather than the transfer of American wealth to the international market."
World markets and bonds: Asian shares closed higher, with Japan's Nikkei adding a modest 0.2% and the Hang Seng in Hong Kong jumping 1.7%.
Major European indexes closed almost 2% higher, with the German DAX leading the way at a 2.4% gain.
Bond prices were mostly lower, with the 10-year note holding modest gains, as the government began selling $81 billion worth of debt this week in a quarterly refunding.
Treasury auctioned $40 billion in 3-year notes Monday, with $25 billion in 10-year notes and $16 billion in 30-year bonds being offered later in the week.
Market breadth was positive. On the New York Stock Exchange, winners topped losers by five to one on volume of 909 million shares. On the Nasdaq, advancers topped decliners almost two to one on volume of 1.2 billion shares.

Features

These Fortune 100 employers have at least 350 openings each. What are they looking for in a new hire? More

It would be the world's second-biggest economy. See how big companies' sales stack up against GDP over the past decade. More