Bank failure toll reaches 123
Regulators close two Florida banks and on in California, costing the FDIC $986.4 million.
Map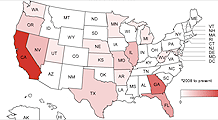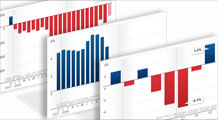 The economy has grown for five straight quarters, but there are signs that the recovery is still fragile.
NEW YORK (CNNMoney.com) -- Two Florida banks and one in California failed Friday night, bring the 2009 national tally to 123. Regulators closed Century Bank, Federal Savings Bank in Sarasota, Fla., Orion Bank in Naples, Fla., and Pacific Coast National Bank in San Clemente, Calif.
Customers of all the failed banks are protected, however. The Federal Deposit Insurance Corp., which has insured bank deposits since the Great Depression, currently covers customer accounts up to $250,000.
Iberiabank in Lafayette, La., will assume both Florida banks' $2.731 billion in deposits, according to the FDIC. Iberiabank also entered into a loss-share agreement with the FDIC on $656 million of Century Bank's $725 million in assets and on $1.9 billion of Orion Bank's $2.7 billion in assets.
The 11 branches of Century Bank and 23 branches of Orion Bank will reopen as branches of Iberiabank.
Sunwest Bank in Tustin, Calif. will assume Pacific Coast's $134.4 million in assets and $130.9 million in deposits, according to the FDIC. The two branches of Pacific Coast will reopen as branches of Sunwest Bank.
Customers of the failed banks can access their money over the weekend by writing checks or using ATMs or debit cards. Checks will continue to be processed, and borrowers should make mortgage and loan payments as usual.
The FDIC also said customers should continue to use their existing branch until they receive notice that the takeover has been completed.
An average of 11 banks have failed per month this year, and the federal coffer is thinning under the massive strain.
The fund now stands below $10 billion, down significantly from $45 billion a year ago. Friday's closure will cost the FDIC an estimated $986.4 million.
After factoring in expected closures, the agency says its insurance fund is in the red and will remain there through 2012. Over the next four years, the agency expects bank closures will cost $100 billion.
The bank failure count for 2009 is still far from 1989's record high of 534 bank closures which took place during the savings and loan crisis, when the insurance fund also carried a negative balance.
The tally is nearly five times the number that failed in 2008, and the highest tally since 1992 when 181 banks failed.

Features

These Fortune 100 employers have at least 350 openings each. What are they looking for in a new hire? More

It would be the world's second-biggest economy. See how big companies' sales stack up against GDP over the past decade. More