Gold surges to a fresh record
The precious metal continues its run on concerns about the dollar and economic jitters. Analysts see $1,200 an ounce before year's end.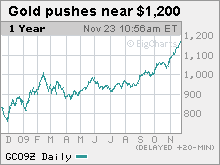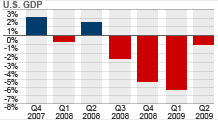 The G-20's six largest economies took a big hit during the global recession in the past year and a half. Challenges remain but most appear on the path to recovery.
NEW YORK (CNNMoney.com) -- Gold rallied to an all-time high Monday, climbing ever closer to $1,200 an ounce, as the U.S. dollar slid and investors showed nervousness about the economy.
December gold rose $18 to settle at an all-time high of $1,164.80 an ounce, after climbing as high as $1,173.50 earlier in the session.
The rally came as the dollar weakened against its main trading partners, with the euro climbing 0.8% to $1.4973. A softer greenback makes commodities that are priced in dollars cheaper for investors holding other currencies.
"We're seeing significant dollar weakness, and I think that's the main driver today," said Joe Foster, portfolio manager for the Van Eck Global International Investors Gold Fund.
The weak dollar has sent gold surging more than 10% this month as investors flocked to a safe-haven investment. Demand for gold and other so-called tangible assets, which tend to store value better than equity-based investments, often rises in times of economic uncertainty.
Gold is also being supported by a growing expectation in the market that central banks around the world will move to increase their hoards.
India's central bank bought 200 metric tones of gold from the International Monetary Fund earlier this month, and the central bank of Mauritius bought a smaller amount last week.
"We believe the activity of central banks and seasonal weakness in the U.S. dollar in the final four weeks of the year will sustain the strong rally in gold prices," analysts at Deutsche Bank wrote in a recent research report.
Meanwhile, gold is benefiting from a "break-down of confidence" as investors fret about growing fiscal deficits and the ability of governments around the world to oversee the financial system, Foster said.
Given the current momentum in the gold market, and the growing interest from big investment funds, analysts expect prices to continue rising.
"We might have a bit of a pull-back, but the long-term trend is higher," Foster said. Gold will probably top $1,200 some time in December and could climb to $1,300 early next year, he added.

Features

These Fortune 100 employers have at least 350 openings each. What are they looking for in a new hire? More

It would be the world's second-biggest economy. See how big companies' sales stack up against GDP over the past decade. More