Economists bullish -- but not about jobs
Despite recent fears of another recession, survey finds top economists predicting stronger growth in 2010. But job gains aren't likely until the spring.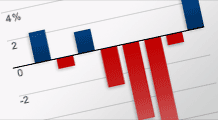 The recovery from the Great Recession has likely started. But many economists are worried about falling into another downturn. Here's what has them concerned.
NEW YORK (CNNMoney.com) -- Despite rising fears of the U.S. falling into another recession, a survey of top economists found them more optimistic about growth in the fourth quarter of this year and throughout 2010. But job seekers will have to wait a little longer for employers to start hiring again.
According to the November survey by the National Association of Business Economics, 48 top forecasters now expect the economy to grow at a 3% annual rate during the last three months of this year, up from their prediction of 2.4% growth in October.
The economists also raised their forecast for growth during every quarter of 2010. They now expect a 3.2% rise in economic activity over the course of the next four quarters, up from their previous estimate of 3%.
But the outlook isn't as good for the record 31 million Americans unable to find full-time jobs.
The economists pushed back their expectations for when U.S. payrolls will start to grow again to the second quarter of 2010. They previously had predicted a gain of 12,000 jobs a month in the first quarter.
The nation's unemployment rate hit 10.2% in October -- higher than expected. The continued problems in the labor market, combined with disappointing reports about housing and retail sales recently, have raised concerns about a so-called "double dip" recession.
Despite this, the majority of experts surveyed by NABE said they felt the economy was on track and did not additional help from the government.
Asked if there should be another round of economic stimulus, only 15% said that would be appropriate, while 40% said they would leave the stimulus package approved early this year unchanged.
The other 45% said they would like to see a cut in the stimulus money already approved but not yet spent. Along those lines, 55% of the economists said they are extremely concerned about the amount of federal debt over the next five years
Still, the economists surveyed were slightly more optimistic about a recovery in housing and the likelihood that consumer spending would increase. They were also more bullish about the stock market, forecasting that the S&P 500 will reach 1,199 at the end of 2010, a gain of about 10% from Friday's closing level.

Features

These Fortune 100 employers have at least 350 openings each. What are they looking for in a new hire? More

It would be the world's second-biggest economy. See how big companies' sales stack up against GDP over the past decade. More