The recovery from the Great Recession has likely started. But many economists are worried about falling into another downturn. Here's what has them concerned.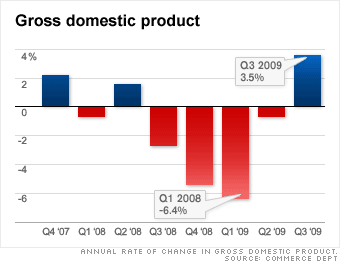 Most economists agree the U.S. economy is in recovery. The question is whether it will stay that way.
The economy grew at a 3.5% annual rate in the third quarter. But even with that shot in the arm, there are plenty of worries about whether the economy could topple into another period of decline, or "double dip" recession, early next year.
These concerns have some economists calling for yet another round of economic stimulus early next year to try to jump start the still struggling labor market. The fear is that if the economy heads into another downturn, the Federal Reserve and Congress will have few, if any, tools left to address the new problems.
"If we do slide back into recession, it will be very difficult to get out," said Mark Zandi, chief economist for Moody's Economy.com.
So how can we tell if the economy is really at risk of double dipping? Here are six key economic indicators that bear watching. All have shown signs of improvement in recent months. But if they start moving in the wrong direction again, that could be bad news.
NEXT: Jobs