Health perks for the unemployed
For a limited time, those who are unemployed and without health insurance can take advantage of freebies like flu shots, check ups and prescription drugs.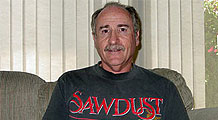 In July, CNNMoney.com told the stories of 4 out-of-work Americans who had just lost their unemployment benefits. Here's where they are today.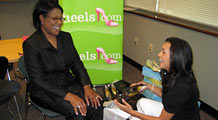 From free dry cleaning to a no-cost vacation, these 5 businesses have come up with creative ways to help out unemployed residents in their communities.
NEW YORK (CNNMoney.com) -- Under the weather and out of a job? You could be eligible for free health services like flu shots and prescription drug refills.
For those who say they cannot afford or cannot access health insurance, there is a welcome reprieve in the form of health-related freebies from the government and a few private companies. The primary requirement: proof of unemployment.
Since the start of the recession, more than 7 million jobs have been lost and for many, along with their job, also went their health insurance.
Nearly 46 million Americans have no health insurance at all, and that number is increasing as unemployment reaches its highest level in 26 years. And COBRA subsidies that help cover the jobless are set to expire soon.
"Overwhelmingly the biggest source of health insurance is through employers," explained Judy Conti, a federal advocacy coordinator for the National Employment Law Project (NELP). For those out of a job, and even with a COBRA subsidy, health insurance coverage is still way too expensive for far too many people, she said.
What's out there
At federally-funded health centers around the nation, those without health insurance can receive checkups, immunizations and prescription drugs at a discounted rate. Locations can be found on the department of Health and Human Services' Web site.
In addition to discounted health centers subsidized by the government, there are also a slew of new programs thanks to corporate funding that are absolutely free, and available on a limited basis.

Earlier this year, Walgreens (WAG, Fortune 500) launched its Take Care Recovery Plan, which allows job seekers to get free health care services at Take Care Clinics until the end of the year. The clinics are located in select Walgreens stores, and can treat a range of ailments from strep throat to allergies and ear infections.
The offer is only available to pre-existing Take Care Clinic patients, and their families, who have become unemployed since March 31 and don't have health insurance. Unemployed workers must provide a federal or state unemployment benefits confirmation letter, unemployment benefit check stub and confirmation of their insurance coverage termination.
Pharmaceutical giant, Pfizer (PFE, Fortune 500), also introduced a medicine assistance program in July where the unemployed and their families can continue to get Pfizer medications, like Lipitor and Viagra.
Only those who became unemployed since the start of the year, don't have prescription drug coverage and were taking a Pfizer medication for at least three months prior are eligible to apply. To qualify, unemployed workers need to fill out an application and submit either a state unemployment benefits confirmation letter, unemployment benefit check stub or employer termination letter.
Those who apply before the end of the year and enroll in the program will receive their medications at no cost for up to one year, or until they become insured.
And in the midst of flu season, CVS (CVS, Fortune 500) is offering 100,000 free seasonal flu shots to the unemployed. Vouchers have been distributed at employment agencies and can be redeemed at CVS pharmacy flu clinics or health care centers.
There are also additional services out there that unemployed workers may qualify for, including more prescription drug discounts, noted Chantel Sheaks, a principal of government affairs at Buck Consultants in Washington, D.C. For those who are interested, Sheaks suggests talking to their doctor or drug manufacturer to see if they apply.
Services like these can make a big difference in people's lives, according to NELP's Conti. "In the absence of health insurance, these sort of stop gap measures are really phenomenal."
"I would just hate for anyone at a policymaking level to mistake this as an adequate replacement for full health insurance," she cautioned. "It's a whole lot better than nothing, but it's not as good as people need."

Features

These Fortune 100 employers have at least 350 openings each. What are they looking for in a new hire? More

It would be the world's second-biggest economy. See how big companies' sales stack up against GDP over the past decade. More