From free dry cleaning to a no-cost vacation, these 5 businesses have come up with creative ways to help out unemployed residents in their communities.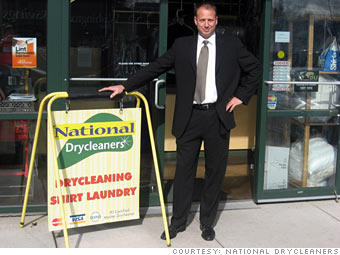 In Seattle, unemployed people with an important interview coming up can drop off their outfits at National Drycleaners, where the shop will launder their suit or dress for free. Owner Mike Erstad started offering the free cleaning in May 2009; he says the response has been fantastic.
One man's suit drop-off seemed particularly necessary, Erstad recalls. The man had no phone number, and was evasive on his address. Staff guessed that he might be homeless and living in his car. It was nice to be able to do something for someone in need, Erstad says.
Although only a dozen or so people have taken Erstad up on the offer, he says the promotion is one that "builds on itself." Erstad sees it as one of the myriad ways a business can support a neighborhood, along with sponsoring Little League teams and other community events.
"We sure have gotten good feedback from people coming into the shop," Erstad says. "They tell us that they think it's a great thing we're trying to do."
Erstad encourages other small-business owners to follow his lead and offer free services to the unemployed. Doing so generates both good will from customers and great publicity from local media. "I could never afford television time, but we got our name out there at no cost," Erstad says. "When you do good, good things happen."
NEXT: Free night's stay