Recapturing the startup spark
A bakery entering its 13th year checks in with our Makeover squad for ideas on revitalizing its business.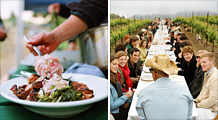 At Outstanding in the Field's locavore dinners, diners get up close and personal with the farms -- and pigs -- that created their food.
NEW YORK (CNNMoney.com) -- Restaurateurs who defy the odds and launch an eatery that survives its first few years face a new challenge: How do you keep an aging business feeling fresh?
That's the issue Terry Carr-Hall is confronting at Provence Breads & Cafe in Nashville, which recently celebrated its 13th birthday. The high-end French bakery in a trendy, high-traffic section of the city is weathering the recession fairly well: Carr-Hall expects only a small dip this year in his typical annual sales of $3.5 million.
But he can't help the nagging feeling that his business could be doing more -- a lot more. "I'm really hoping to recapture the business," he says. "It's lost some of its charm."
Provence Breads is starting to show its age, Carr-Hall feels. The entire place could use a physical makeover, from curtains to cafe chairs.
Then there were the business decisions that didn't turn out exactly as expected. The major one was a decision to move the bakery's oven off-site to accommodate better, large equipment and growing volume. It's something Carr-Hall laments to this day -- even though it made for a higher-quality product.
"The business changed," he says. "People used to look through the glass and see us pulling out the bread."
To help Provence, CNNMoney.com called on three experts, each with deep experience in the issues Carr-Hall wants to tackle most: entrepreneurship, marketing and corporate social consciousness.
First up is Lawrence Gelburd, a lecturer at the Wharton School's Entrepreneurial Management Program at the University of Pennsylvania.
Revamping a physical space can be done on the cheap -- and it can double as a marketing move. Local design students may jump at the chance to showcase their work. Hold focus groups with customers and designers to get fresh ideas, luring them with free bread and pastries, Gelburd suggests. With a fun angle, Provence could easily pique the interest of the local press and garner publicity.
"I think it's a huge opportunity," Gelburd says.
It's all too easy for a more mature company, especially one that is doing well, to lose its startup energy. Owners need to weave innovation into their day-to-day operation, he says. Hold weekly brainstorming meetings with senior management, and ask everyone to come up with goals for the company and strategies for executing on them.
Gelburd bubbled with ideas during just one quick, off-the-cuff brainstorming session:
-- Sell related, high-margin products you don't already carry, and involve the community in the process. "You could have a designer come in and work with wine and cheese," he suggests.
-- Incorporate live video into the Web site showing the bakers at work. "Like the changing of the guards at Buckingham Palace," Gelburd says. "The changing of the loaves."
-- Partner with a bakery in Paris.
-- Initiate food tours of Nashville. "I'm sure there are music tours," Gelburd says. "Create a relationship."
Above all, he says, "think outside the oven."
Gelburd's ideas resonated with Carr-Hall.
"More than ever this year, it became evident to us that the bread is what it's all about," Carr-Hall says. "We became heavy participants in everything local -- we're very involved in the Slow Food movement. We have a constant parade of farmers, with beat-up trucks, coming up to the back of the cafe."
Breaking out
That "back-to-basics" realization is exactly the right path for Provence, says our second expert, marketing and branding consultant Lori Martinek, who was already familiar with the business from visits to Nashville.
"These people are exceptional bakers -- they do it well," she says. Provence breads or pastries are considered "the perfect thing to pick up on your way to a party."
Martinek would like to see Provence capture more of its artisanal bread flair on its Web site. "Bread is an experience -- focus on it," she says. "You want to make their mouths water."
Carr-Hall agrees, circling back to the issue of moving the oven off-site: "We need to bring it back to the village and recreate the whole theater and atmosphere of having bakers pull it out of the oven." Our expects all agreed that would be a good move, and Carr-Hall resolved to find a way.
Martinek also wants Carr-Hall to delve deeper into his Web strategy. "If they are promoting online ordering, it's absolutely essential" to have a stellar online reputation, she says. "They can blog, they can encourage happy customers to make comments. The Web site is good, but a little boring. I want them to tell me more about the bread. It's all about the bread and the experience."
Martinek's next piece of advice illustrates how business owners sometimes have to sacrifice art for commerce. She zooms in on Provenance's offering for its lunchtime rush crowd: Sandwiches that are wrapped in plastic and stockpiled in advance, rather than made to order. That goes against the shop's artisan image. "Don't over-corporate it," she warns.
But Carr-Hall has already wrangled with that problem. "We tried [made to order]," he says. "We thought they wanted it their way, but the interesting thing is most customers just wanted it pretty quickly -- they didn't want to wait. So we ended up devolving into pre-made. We make it known that it was made no longer than four hours ago."
Doing good and profiting
As befits a shop that focuses on baking from scratch with sustainably grown ingredients, Provence has a socially conscious streak. The bakery regularly donates bread to the homeless and hungry and raises money for other causes, such as pediatric cancer. Carr-Hall credits part of Provence's philanthropy to the passion of the university students that make up so much of the shop's employee roster and customer base.
For companies that want to take their giving further, the key is to focus on a cause -- something to rally employees and the community around, says Maggie Keenan, a strategic philanthropy advisor.
"Businesses always look at [philanthrophy] in terms of cash and hours," she says. "But who has that these days?" Instead, focus your efforts: "You want to create an authentic and compelling message to the community to say 'we are behind this social issue 100%.'"
The obvious cause for any bakery is hunger, but it could be anything of social value that resonates with the owner and staff. "Just brainstorm -- and think 'fun' and think 'engaging,'" she suggests. "Ten different businesses could come up with wildly different and fantastic things." She suggests Provenance think about its customer community: How can they be drawn into the philanthropic effort?
And whatever new projects or campaigns the business comes up with, measure them. "You want to know what is working and what is not," she says. "It must be an integral part of what you do, not a side project."

Could your business use a makeover? In general, successful Makeover candidates are profitable small companies with at least $1 million in annual gross revenues. To submit your firm for consideration,
e-mail the FSB makeover editor here
. Please describe your business briefly, provide your most recent and projected revenues, and explain why you think your company would benefit from a Makeover.