Heavyweight Dodge Ram voted 'Truck of the Year'
The Motor Trend award goes to the all-business Dodge work truck.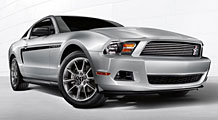 These days, little engines produce the same power you once needed a big V8 for. Meet 5 new models bringing back the muscle car.
Find your next Car

NEW YORK (CNNMoney.com) -- Chrysler Group's Dodge Ram Heavy Duty won Motor Trend magazine's coveted "Truck of the Year" award in a unanimous vote, the magazine announced Thursday.
"Much of what is so impressive about the Ram Heavy Duty is not only how easily it does all the tasks it's built for, but also how easy it is on the driver," Angus MacKenzie, Motor Trend editor-in-chief, said in a statement. "The Ram is quieter, more comfortable and people-friendly than before without sacrificing its considerable capability."
The award was open to pick-ups and vans that were all-new or substantially redesigned in the past year. Besides the Ram Heavy Duty, the three other contenders for this year's award were the Ford F-150 SVT Raptor, which is a high-performance off-road truck, the Ford Transit Connect, a small commercial cargo van, and the Toyota Tundra 4.6-liter truck.
The Ram Heavy Duty, unlike the more familiar Dodge Ram 1500, is built strictly for work and isn't intended as a vehicle someone might drive for personal use. It has a 17,500 towing capacity and is available with a powerful diesel engine.
"No automotive segment has been left untouched by the economic downturn, but the truck market has been especially hard hit," said MacKenzie. "With many casual personal-use truck buyers having deserted the market, the industry has been forced to tightly focus its products on the specific needs of truck users."
Motor Trend editors judged the trucks based on design, engineering, efficiency, safety,and value, as well as on how well the vehicle fills its intended function. As part of the judging process, the trucks are put through a series of driving tests on test tracks and on ordinary roads, both empty and fully loaded.
Motor Trend gives three vehicle awards annually. The Subaru Outback won the magazine's SUV of the Year award in October, the second year in a row that a Subaru product won that award, and the Ford Fusion won Car of the Year in November.
"The Motor Trend Truck of the Year Award is like a standing ovation for the Chrysler Group designers, engineers and planners who developed this incredible Ram Heavy Duty Truck," said Fred Diaz, president and chief executive officer of Chrysler Group's Ram truck brand, in a statement.
Chrysler Group recently named Diaz to head the Ram truck brand, a newly distinct brand within Chrysler. Car designer Ralph Gilles now heads a separate Dodge car brand.
Since emerging from bankruptcy, Chrysler has been under the leadership of Sergio Marchionne, who also runs Italy's Fiat Group. Fiat now owns 20% of Chrysler.
Chrysler is struggling to turn around its precipitously falling sales and reinvigorate an aging product line-up. Chrysler sales were down more than 25% in November, compared to last year, a much worse showing than domestic rivals General Motors and Ford (F, Fortune 500).
The carmaker has enjoyed a few bits good news lately, though. Consumer Reports revealed that the Dodge Challenger muscle car,topped its own readers' survey of car owner satisfaction.

Features

These Fortune 100 employers have at least 350 openings each. What are they looking for in a new hire? More

It would be the world's second-biggest economy. See how big companies' sales stack up against GDP over the past decade. More