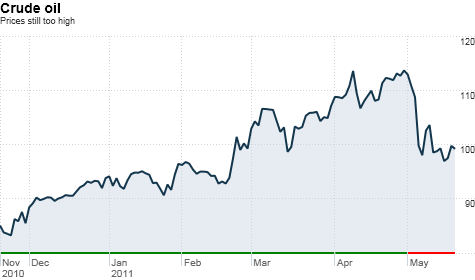 For oil and other commodity prices, click chart.
NEW YORK (CNNMoney) -- The International Energy Agency warned Thursday that high oil prices are imperiling the global economy.
The Paris-based energy watchdog, also called on oil-producing countries to increase supply before demand begins to rise during the peak summer months.
As global demand for energy typically increases from May to August, there is an "urgent" need for additional oil supplies to prevent further tightening of the market, IEA said.
The agency said that the surge in oil prices since September is causing global imbalances to wide, "reducing household and business income, and placing upward pressure on inflation and interest rates."
After spiking near $115 a barrel in late April, oil prices have tumbled 14% to about $99 a barrel on Thursday. But IEA officials say that's still too high.
At this time in 2010, oil prices were hovering near $68 a barrel.
"Oil prices remain at elevated levels driven by market fundamentals, geopolitical uncertainty and future expectations," the IEA said.
The runup in oil prices has translated into higher prices for gasoline, which dragged on consumer spending and put a damper on U.S. economic activity during the first quarter.
The IEA statement comes ahead of a scheduled meeting of the Organization of the Petroleum Exporting Countries on June 8 in Vienna.
OPEC, which controls much of the world's oil supply, said in December that average oil demand this year will probably be lower than it was last year. As such, the cartel agreed to maintain oil production at 2010 levels.
Oil prices shot up in March as political instability in North Africa and the Middle East prompted worries about supply. OPEC has said that it will offset any lost oil from the war in Libya.
But the IEA, which was founded in 1973 to guard against oil supply shocks, said that higher oil prices remain a threat to both oil producers and consumers.
In particular, the group said developing nations could be "seriously affected" by higher fuel costs, suggesting that price shocks could undermine "their economic and social well-being."
The IEA urged producers to take action to help "avoid the negative economic consequences which a further sharp market tightening could cause."