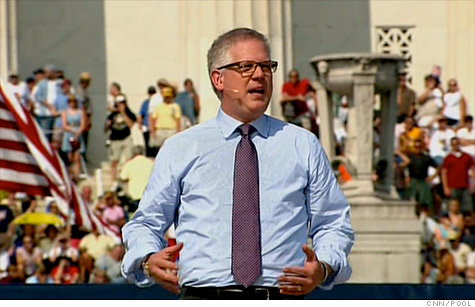 Conservative firebrand Glenn Beck, at his 'Restoring Honor' rally at the Lincoln Memorial on Aug. 28, 2010.
NEW YORK (CNNMoney) -- Glenn Beck's company, Mercury Radio Arts, has launched a site that offers online discounts on purchases for various goods.
The conservative talk show host's site -- Markdown.com -- debuted Monday with the offer of a 50% chocolate discount from Chocolate.com. The website, which is similar to discounting sites Groupon and Living Social, is providing $20 vouchers "for just $10."
Mercury Radio Arts also said it will be offering deals through Lifelock, an identity fraud prevention company. The company said that deals involve a discount on a "credit score monitoring product."
Beck's various media outlets, including his syndicated radio talk show, will promote the site, the company said.
Beck is a conservative media firebrand and best-selling author who recently severed his television contract with Fox News after his ratings dropped precipitously in 2011. Beck lost about 800,000 viewers during the first quarter this year, knocking his average viewership below 2 million, according to Nielsen.
Prior to his Fox job, Beck had a television contract with CNN.
Markdown.com is Beck's latest venture out of many. In addition to his slew of books, published through Simon & Schuster, he also has his own magazine, called Fusion. He also has a website where he sells T-shirts and coffee mugs bearing the slogan, "Truth has no agenda."
Beck is tourning the United States with a series of stand-up comedy performances.