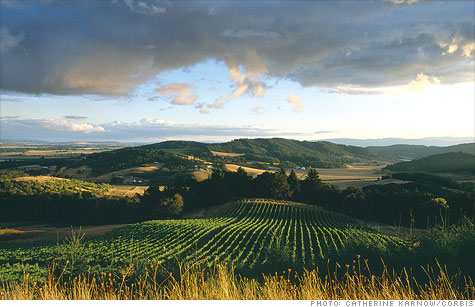 (MONEY Magazine) -- Don't follow the crowds to Napa or Bordeaux this fall. You'll save nearly 40% on lodging at these locations -- and the vino is cheaper, too.
Willamette Valley, Ore.
Many of the 200-plus wineries here are known for fine Pinot Noir. "Smaller producers such as Iota Cellars and Z'IVO Wines usually offer great bargains," says Andrew Bell, CEO of education group American Sommelier.
Bottles from this area often sell for 20% less than their Napa counterparts. Stay at the Youngberg Hill Vineyards & Inn in McMinnville; from $220 per night.
Finger Lakes, N.Y.
Savings: 39% vs. Napa Valley
This is the place for whites, especially Rieslings, says Karl Storchmann, managing editor of the Journal of Wine Economics.
Tastings at the wineries here are either free or $2 to $3 per person (vs. a typical $10 to $25 in Napa). Start at the Cayuga Lake Wine Trail, which runs by the area's longest lake. A suite at 10 Fitch, a luxury B&B in Auburn, is $225 and up per night.
Savings: 37% vs. Napa Valley
Send The Help Desk your budget travel questions.
Mendoza, Argentina
Our autumn is not harvest season in South America -- but tasting rooms are no less filled with full-bodied reds.
"A steak dinner with an amazing bottle of Malbec [Argentina's signature grape] can cost less than $20," says Elizabeth Martin-Calder, a wine tourism consultant. Visit the Luján de Cuyo area; rooms at Mendoza City's nearby Bohemia Hotel Boutique cost as little as $90 a night.
Savings: 39% vs. Bordeaux
Note: Savings are for midweek lodging in September, vs. Napa Valley (for the domestic locations) or Bordeaux, France (for Mendoza).