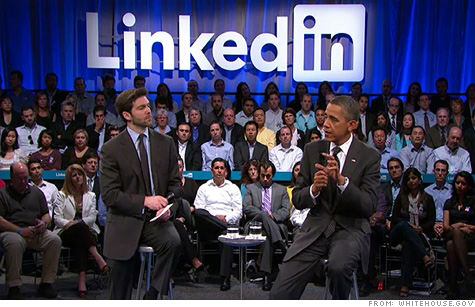 LinkedIn CEO Jeff Weiner and President Obama tout the American Jobs Act in an online town hall Monday.
NEW YORK (CNNMoney) -- Not to be outdone by rival social networks Facebook and Twitter, LinkedIn hosted its own presidential town hall online Monday.
Appearing via a live video stream on LinkedIn and the White House web site, President Obama took to the social network to talk about the American Jobs Act and the economy.
"The most important thing we can do right now is to help jump start the economy which has stalled, by putting people back to work," Obama said, touting his $447 billion American Jobs Act.
Obama cited estimates that forecast the plan would increase U.S. gross domestic product by 2%, and add about 1.9 million jobs.
Those figures match estimates from Mark Zandi, chief economist for Moody's Analytics, who is among the more bullish forecasters, while many others predict a slightly smaller impact from the plan.
Obama also took questions from LinkedIn members and employees vetted in advance, as well as some members who gathered for the live event held in Mountain View, Calif.
"My mom wants to know... what will happen to Social Security?" one audience member asked.
"You can tell your mom that Medicare and Social Security will be there for her, guaranteed," Obama said, adding that modest adjustments will need to happen to keep the safety nets in place.
The president proposed $3 trillion in spending cuts last week. While the plan did not include any specific reforms to Social Security, it proposes slashing $248 billion in Medicare spending, mostly by reducing overpayments in the system.
Doug Edwards, another audience member and former head of brand management for Google, brought tax reform up for discussion.
"I don't have a job, but that's because I've been lucky to live in Silicon Valley for a while and work for a small start-up down the street that did quite well. I'm unemployed by choice," he said. "Would you please raise my taxes?"
Obama used that platform to push a combination of spending cuts and reforms that would simplify the tax code. He also chided some Republicans for proposing further tax cuts that would take tax revenue back to 1920 levels, as a percent of the total U.S. economy.
"We're successful because somebody invested in our education, somebody built schools, somebody created incredible universities ...We benefited from somebody somewhere making an investment in us. And I don't care who you are, that's true," he said.
Meanwhile, Republicans presented an alternative vision for how to spur economic growth Monday at a town hall event hosted by Facebook and streamed live on the social media website.
Reps. Eric Cantor, Kevin McCarthy and Paul Ryan -- all top Republicans in the House -- advocated reforming the tax code and lowering rates on businesses. At the same time, they said the government should reduce regulation on industry.
Obama also hosted online town halls on Twitter in July and Facebook in April.
-- CNNMoney Staff Writer Julianne Pepitone and CNN's Chief White House Correspondent Jessica Yellin contributed to this report