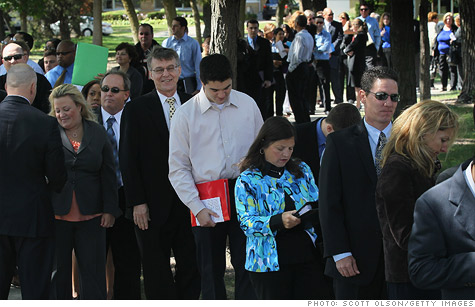 Claims were back above 400,000 last week.
NEW YORK (CNNMoney) -- The number of Americans filing for their first week of unemployment benefits has jumped back above 400,000, according to a government report.
There were 401,000 initial unemployment claims filed in the week ended Oct. 1, the Labor Department said Thursday, up 6,000 from the prior week's revised 395,000.
The increase was almost exactly what markets expected, as economists had forecast initial claims to rise to 402,000, according to Briefing.com.
New claims for unemployment benefits have stuck around or above 400,000 since early April, a level economists often say is too high to signal the unemployment rate will come down anytime soon.
Continuing claims -- which include people filing for the second week or more of benefits -- decreased by 52,000 to 3,700,000 in the week ended Sept. 24, the most recent data available.
On Friday, investors will turn their focus to the all-important monthly jobs report -- which will provide clues about the overall strength of the economy.
"The weekly claims data over the past two weeks have put a positive spin on Friday's jobs report risk," economist Mike Englund of Action Economics wrote in a research note.
A CNNMoney survey of 22 economists forecasts that the U.S. economy added 65,000 jobs, with the unemployment rate expected to remain unchanged at 9.1%.

Overall, about 14 million people remain unemployed in the United States.