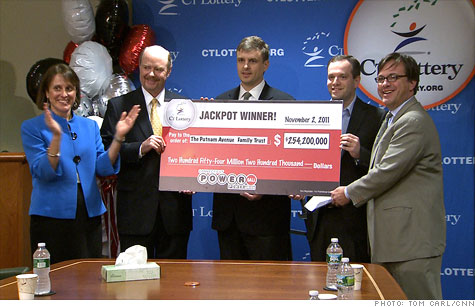 The trustees are: Tim Davidson, who bought a single, $1 ticket, Brandon Lacoff and Greg Skidmore.
(CNN) -- Three Connecticut asset managers claimed the largest Powerball jackpot in the state's history on Monday.
Co-workers Tim Davidson, Brandon Lacoff and Greg Skidmore claimed the November 2 prize, that netted them $103.5 million at a presentation by the Connecticut Lottery Corporation.
The jackpot for that drawing was $254 million if the winners had taken a multi-year payout. Instead they opted for a one-time cash payout that totaled $103,586,824.51, according to Connecticut Lottery spokeswoman Linda Tarnowski.
It was the 12th largest jackpot in Powerball history, according to Anne Noble, president of the Connecticut Lottery.
"Everybody is extremely excited -- these numbers are huge," said the trio's attorney, Jason Kurland. "This is going to benefit many people."
Kurland spoke on behalf of three winners, all asset managers at start-up firm Belpointe Asset Management in Greenwich, Connecticut. He said that the men will donate "a significant amount" of the winnings to charities in the state.
Davidson bought the $1 ticket at a gas station in Stamford, Kurland said.
After realizing they had a winning ticket the following morning, the three co-workers formed the Putnam Avenue Family Trust -- each becoming a trustee.
"They have become their dream client," Kurland said of the asset managers.
Skidmore was the only one of the three winners to speak at Monday's press conference.
"It feels good," he said.