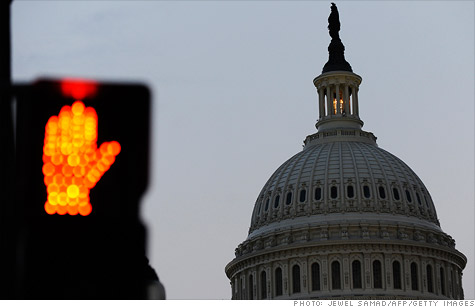 The U.S. economy remains in a funk. The CEO of one major manufacturer said the government did not (and is still not) doing enough to help.
NEW YORK (CNNMoney) -- When the best thing you can say about the U.S. economy is that it isn't as messed up as Europe, you know that's a problem.
Many of the challenges facing Europe are similar to what's going on here in America. The only major difference is that instead of a large number of sovereign nations bickering about debt, you have partisan politicians bickering about debt.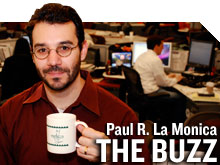 But that has to end so that the United States does not become the next Europe.
The United States is stuck in a slow growth recovery from the Great Recession of 2008 and 2009. And while there have been some encouraging signs in the job market lately, it's not enough to make most consumers (not to mention investors) get all that excited.
Many think that the problem begins and ends with Washington. The refusal to do anything that might help the economy in the short-term because of this myopic focus on cutting the deficit is creating confusion and hurting consumers.
Over the past two years, I've taken plenty of shots at cash-rich companies for not hiring more aggressively.
But to be fair, the onus can't be just on Corporate America.
I met with Alexander "Sandy" Cutler, the CEO of Cleveland-based manufacturer Eaton (ETN, Fortune 500), at the CNNMoney offices Thursday. He's a straight shooter and made a pretty compelling case for why many U.S. companies are lacking the necessary confidence to go out and hire more.
Cutler said that Eaton currently is not facing much pressure to hire in the United States due to the combination of productivity gains and lackluster economic growth here.
But the company has ambitious plans to increase its presence in emerging markets. The goal is to double annual sales in China from $1 billion to $2 billion by 2015.
Interestingly, Cutler said that the problems in Europe, while severe, may be getting blown out of proportion in the markets. Eaton generates about a quarter of its total sales from Europe.
"It's more volatile in the markets than what you see on the ground," he said.

So what's wrong with America?
For starters, Cutler thinks that Washington did not do enough in 2009 and 2010 to get the economy back on track. He said that there needed to be swifter action to encourage trade with emerging markets. But long-delayed trade deals with South Korea, Colombia and Panama were finally passed this October.
"The U.S. blew that," Cutler said.
A little bit more context about Cutler: His firm makes electrical components and power systems for trucks and automobiles, as well as other industrial equipment to help boost energy efficiency.
And he said that not enough was done to encourage companies like his to invest more in capital.
One of the few things that the White House and Congress was able to agree on was a tax break for accelerated depreciation that allowed companies to write off certain capital expenditures immediately. That was not sufficient.
"We want to get people back to work in this country," Cutler said. "You do that through capital investment."
Finally, Cutler said that perhaps the biggest problem is that the United States is not doing enough to train people who are out of work to get the necessary skills for the new types of jobs that are being created. He said that there needs to be more, not less, government funding for vocational schools.
"You can't have a workforce without current skills. That's dangerous," he said.
Cutler is just one of many business leaders who is dissatisfied with Washington. When I surveyed two dozen CEOs back in May, several said that the federal government needed to focus more on job creation than the deficit.
Now I still firmly believe that some large companies do need to take advantage of their strong balance sheets and hire more so they can do what the government seems unwilling or unable to do.
But it's clear that all the political haranguing is doing nobody any good. It's understandable that companies feel like their hands are tied.
"Policy uncertainty makes people cautious about how to proceed. People are not sure what their costs will be. It's hard for business leaders to get excited even if the economy is going in the right direction," said John Derrick, director of research with U.S. Global Investors in San Antonio.
"There may be a little too much pessimism with regards to the economy. There are good things that people refuse to believe in," he added. "But I don't blame people for being cautious ... and it could get worse in 2012."
Best of StockTwits: Fast food nation? It's a fast food world. But another consumer company popular with bargain hunters has stumbled. And another day, another tech deal up in the clouds.
OptionRadar: $MCD numbers strong while $YUM just broke out of a 9 point horizontal channel...people continue to eat and get fat.
McDonald's (MCD, Fortune 500) and Yum! Brands (YUM, Fortune 500) are very healthy companies -- even if their food isn't exactly healthy. Both franchises are doing a fantastic job with overseas expansion. The 6.5% sales increase for Mickey D's in Europe is stunning.
Retail_Guru: Unlike $MCD teflon sales, Costco armor has chinks. Strong sales came at the expense of lower selling margins; quality of Q not great $COST
Can you say commodity inflation? Costco's (COST, Fortune 500) sales up 12%. That's good. Until you realize merchandise costs were up 13%.
ivanhoff: Death, taxes and acquisitions in the cloud space RT @Benzinga $IBM Paying Around 55% Premium on $DMAN
ldrogen: $DMAN buyout by $IBM extremely bullish for $LPSN and $EBIX, especially at a 50% premium.
There is a frenzy in the cloud world since IBM (IBM, Fortune 500)/DemandTec (DMAN) closely follows the SAP (SAP)/SuccessFactors (SFSF) deal and the Oracle (ORCL, Fortune 500)/RightNow (RNOW) merger. But LivePerson (LPSN) and Ebix (EBIX) were actually lower Thursday. Perhaps investors correctly realize that not EVERY cloud company will get taken over?
The opinions expressed in this commentary are solely those of Paul R. La Monica. Other than Time Warner, the parent of CNNMoney, and Abbott Laboratories, La Monica does not own positions in any individual stocks.