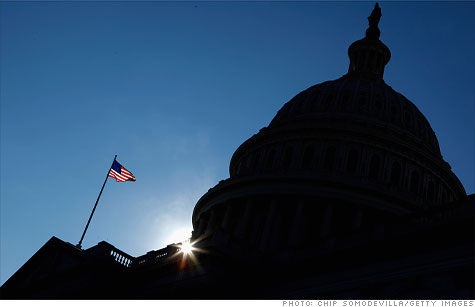 Budget cuts on Capitol Hill.
NEW YORK (CNNMoney) -- In the land of big-time deficits and trillion dollar budgets, Congress is spending less money on at least one thing.
Itself.
After voting last year to cut its own operating budget by 5%, House members have reduced the number of paid positions on their staffs, and are spending less on office supplies and computers.
The cuts have translated to 948 fewer salaried staff positions, a 62.5% drop in spending on computers and 30.7% less spending on office supplies, according to an analysis conducted by the Sunlight Foundation.
Staff assistant positions were the hardest hit, registering a 16.6% decline, while the number of part-time employees dropped 15.6%. Meanwhile, the number of slots for communication directors actually increased.
The House has around 12,000 staffers, and the job cuts amounted to a 7.4% overall decline in positions, according to Sunlight.
When compared to current deficits, the House spending reductions don't add up to much in the way of savings. But for a Republican-controlled chamber, they are an important reflection of legislative priorities.
"The cuts are such a tiny fraction of the overall budget," said Lee Drutman, a data fellow at Sunlight. "And the reality is it makes it harder for them to do a decent job."
And more cuts are on the way, as funding will decrease another 6.4% for the legislative year that kicks off Tuesday.
With many of the easy cuts already made, and staff salaries accounting for about half of congressional budgets, things might get tricky for lawmakers trying to keep a full roster of employees.
A report from the Congressional Management Foundation, a non-profit that helps congress improve its operations, backs that up.
"The 2011 cuts were manageable," the report said. "However, the consensus is that the cumulative two-year cut of 11.4% will require the large majority of offices to make painful cuts that will be felt by virtually all staff."
Drutman warns that any further reduction in staff levels will hurt the ability of congressional offices to independently produce sound policy recommendations and legislation.
"Capitol Hill staffers are already stretched incredibly thin," Drutman said. "And that means if you're a staffer, you're more dependent on outside sources."
And who are those outside sources?
For the most part, said Drutman, they're lobbyists. And dependence on lobbyists for policy expertise is a dicey proposition.
Lobbyists can help fill policy knowledge gaps on congressional staffs, but at the same time come with deep-pocketed backers seeking a specific legislative outcome.