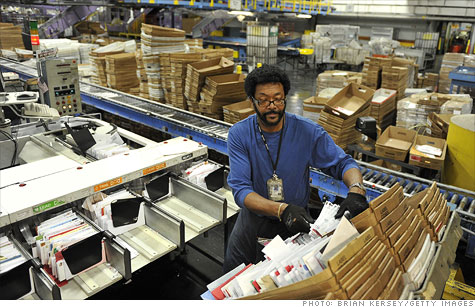 The Senate began debate on a bill to save the indebted U.S. Postal Service, including a new idea that would save nearly half of the processing plants slated to be closed next month.
WASHINGTON (CNNMoney) -- As the Senate started debate Tuesday on a bipartisan plan to save the struggling U.S. Postal Service, lawmakers announced a new effort to save about 100 mail processing plants now slated to be closed or consolidated next month.
The new proposal, offered by members in both parties, would force the U.S. Postal Service to ease off part of its plan to slow down the delivery of first-class mail, the kind of mail that most consumers use.
The effort is part of a broader lifeline that the Senate is considering to save the deeply indebted Postal Service, which would otherwise cut Saturday service, delay delivery of some mail, and close hundreds of postal processing plants and post offices, triggering tens of thousands of job cuts nationwide.
Congress has until May 15, when a moratorium on postal service closures expires.
The recession, declining mail volume and a congressional mandate to prefund retirement health care benefits have put the service in a bind. It reported a $5.1 billion loss for the year ended Sept. 30.
Earlier this year, the Postal Service said it was doing away with overnight delivery of many kinds of first-class mail, opening the door for closing 223 mail processing plants at a cost of 35,000 jobs.
The Senate's new bill would force the Postal Service to maintain some one-day delivery of first-class mail, mostly for items mailed within the same processing area, according to aides familiar with the bill.
The Postal Service told lawmakers that the measure, if passed into law, could save about 100 mail processing plants. They couldn't say, yet, which ones would be saved or how many jobs would be impacted.
The Senate bill would also tap most of an estimated $10.9 billion overpayment in the Federal Employees Retirement System to pay down postal service debt and use up to $2 billion on buy-out packages to entice long-time employees to retire.
Among other things, the Senate bill would also give the postal service a new revenue stream by making it legal to ship beer, wine and liquor -- which competitors such as Fed Ex (FDX, Fortune 500) and UPS (UPS, Fortune 500) can already do.
The bill would also make some controversial changes, including cuts to workers' compensation benefits as well as a transition from door-to-door delivery to curbside delivery in some areas, such as suburban neighborhoods.
The bill would also prevent the Postal Service from cutting Saturday delivery for two years, until the agency can prove such a cut is needed as a "last resort."
Unions oppose the Senate bill, saying it doesn't provide a good long-term business model.
One of the larger postal unions, the National Association of Letter Carriers, released a memo Tuesday suggesting alternatives, such as allowing the postal service to raise the price of postage and services, without spelling out what should be hiked.
The union memo also suggests that the postal service should "grow its parcel service business," taking advantage of its delivery network, and ensure "shared sacrifice" among all stake holders, according to an analysis of the Senate bill by the financial firm Lazard.
"The analysis clearly shows it would be a terrible mistake for Congress or the Postal Service to rely on massive cuts in service to deal with the service's financial difficulties, which are real," said Frederic V. Rolando, president of the union.
The cost of the Senate bill has yet to be released, but supporters believe the billions of dollars saved will more than make up for any expenses.
The U.S. Postal Service is, by law, an "independent establishment" of the executive branch. The agency doesn't normally use tax dollars for operations, but it has a $12 billion loan from Treasury, as of Feb. 29.