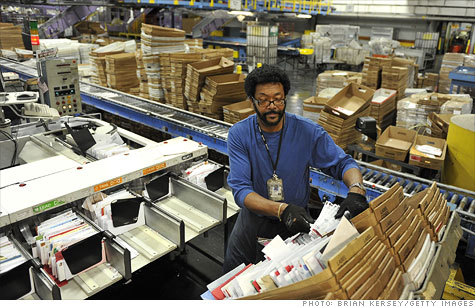 The Senate will vote on a bill to save the indebted U.S. Postal Service, including a new idea that would save nearly half of the processing plants slated to be closed next month.
WASHINGTON (CNNMoney) -- The Senate was expected to vote as early as Tuesday on a plan to save the struggling U.S. Postal Service, an effort that could save thousands of jobs and 100 mail processing plants now slated to be closed or consolidated next month.
The bill would offer a lifeline to the deeply indebted Postal Service, which would otherwise cut Saturday service, delay delivery of some mail, and close hundreds of postal processing plants and post offices, triggering tens of thousands of more job cuts nationwide.
The House has yet to take up a different bill to reform the Postal Service. Congress faces a deadline of May 15, when a moratorium on postal closures expires.
The Senate bill, offered by members in both parties, would force the Postal Service to ease off part of its plan to slow down the delivery of first-class mail, the kind of mail that most consumers use.
The bill would make controversial changes, including cuts to workers' compensation benefits, as well as a transition from door-to-door delivery to curbside delivery in some areas, such as suburban neighborhoods.
The Senate bill would also prevent the Postal Service from cutting Saturday delivery for two years, until the agency can prove such a cut is needed as a "last resort."
The cost of the Senate bill could prove a major sticking point. The Congressional Budget Office says the bill would cost $33.6 billion over 10 years. Alabama Republican Sen. Jeff Sessions, who is on the Senate budget panel, will try to block the bill, saying it's too pricey.
It wasn't clear Tuesday whether bill supporters had secured support from 60 senators, the threshold to clear hurdles to get the bill passed.
"We are looking at a dying part of America's economy, because of technological advances, and in this legislation, we're not recognizing that problem," said Sen. John McCain, an Arizona Republican who opposes the Senate bill. "This bill will continue the failing business model of the Postal Service."
But Sen. Joseph Lieberman, one of the bill's authors, said McCain's efforts to save the Postal Service would hasten its demise.
"There are 8 million jobs that depend, one way or another, on the functioning of the U.S. Postal Service. It's not realistic to speak as if it's dead and gone," the Connecticut independent said. "We come not to bury the U.S. Postal Service, but to keep it alive and well forever."
The recession, declining mail volume and a congressional mandate to prefund retirement health care benefits have put the service in a bind. It reported a $5.1 billion loss for the year ended Sept. 30.
Earlier this year, the Postal Service said it was doing away with overnight delivery of many kinds of first-class mail, opening the door for closing 223 mail processing plants at a cost of 35,000 jobs.
The Senate bill would force the Postal Service to maintain some one-day delivery of first-class mail, mostly for items mailed within the same processing area -- saving 100 mail processing plants.
The Senate bill would also tap most of an estimated $10.9 billion overpayment in the Federal Employees Retirement System to pay down postal service debt and use up to $2 billion on buyout packages to entice long-time employees to retire.
Unions oppose the Senate bill, saying it doesn't provide a good long-term business model.
"It would be a terrible mistake for Congress or the Postal Service to rely on massive cuts in service to deal with the service's financial difficulties, which are real," said Frederic V. Rolando, president of the National Association of Letter Carriers.
The U.S. Postal Service is, by law, an "independent establishment" of the executive branch. The agency doesn't normally use tax dollars for operations, but it has a $12 billion loan from Treasury, as of Feb. 29.