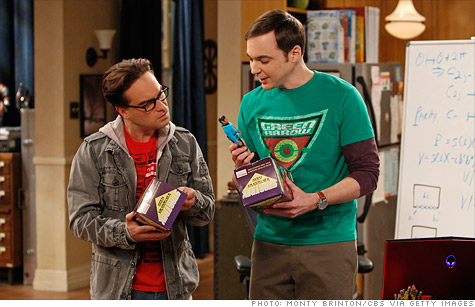 Strong results from its movie and TV studios, including its revenue from the show "The Big Bang Theory" helped lift operating income at Time Warner.
NEW YORK (CNNMoney) -- Media conglomerate Time Warner posted higher first-quarter operating earnings Wednesday, helped by strong results from its movie and television studios.
The New York-based company, parent of CNN and CNNMoney, posted adjusted operating income of $1.4 billion, up 6% from a year earlier. Earnings per share rose to 67 cents from 58 cents in the prior-year period, topping forecasts of a 64-cent-a-share profit.
But net income at the company, which includes charges taken for asset writedowns and losses on operating assets, fell 11% to $581 million. Those charges included a shut down its general entertainment network in India and the sale of a school fundraising business.
Revenue also grew more than expecting, rising 4% to $7 billion.
The biggest improvement in earnings came from its film and TV entertainment unit, in which adjusted income jumped 39% to $215 million. The company cited the movie "Sherlock Holmes: A Game of Shadows" and the Warner Bros.-produced "The Big Bang Theory" for their contributions to the growth. The Sherlock Holmes sequel has pulled in $535 million in worldwide box office, although some of that came in the fourth quarter of last year.
Time Warner's networks unit produced larger profits, but much more modest growth, rising 3% to $1.2 billion. Advertising revenue was driven by strong pricing and the 2012 NCAA Men's Basketball Championship, which various Turner networks carried along with partner CBS.
But earnings tumbled 38% at its publishing unit to $39 million, as ad revenue fell 5% and subscription revenue dropped 2% on weaker newsstand sales.
The company reaffirmed its earnings guidance going forward, saying it forecasts "low double digit" percentage growth in earnings per share for the full year. It said it is expecting strong box office hits in the upcoming releases of the movies "Dark Shadows," "The Dark Knight Rises" and "The Hobbit."
Analysts surveyed by Thomson Reuters are forecasting full-year earnings to rise 10% to $3.19 a share.
Shares of Time Warner (TWX, Fortune 500) have trailed rivals Walt Disney (DIS, Fortune 500), Comcast (CMCSA, Fortune 500), CBS (CBS, Fortune 500) and News Corp. (NWS) so far this year.