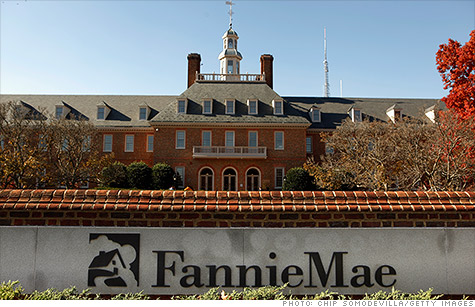 Fannie Mae and its sister company, Freddie Mac, were placed under government conservatorship after suffering heavy losses during the housing downturn.
NEW YORK (CNNMoney) -- Fannie Mae has appointed former Bank of America executive Timothy Mayopoulos to be its next CEO, the housing finance giant announced Tuesday.
Mayopoulos, who currently serves as Fannie's executive vice president, chief administrative officer, and general counsel, replaces Michael Williams, who announced plans to step down in January.
"I am honored with this extraordinary opportunity to lead Fannie Mae during this critical period," Mayopoulos said in a statement. "We have a responsibility to return value to taxpayers and to contribute our expertise and experience to building a more effective and stable housing finance system for the future."
Fannie Mae, along with fellow government-backed firm Freddie Mac, suffered massive losses during the housing crisis and required billions of dollars worth of government support. So far, Fannie has received more than $116 billion in bailout funds and has paid roughly $23 billion back to the government.
There are signs that things are starting to turn around, however. Last month, Fannie announced its best quarterly results since 2004 and said it didn't require additional bailout money.
Fannie and Freddie provide most of the funds used for U.S. home mortgages -- they purchase and bundle loans made by banks and other lenders, attach loan guarantees, and then sell or hold securities backed by those mortgages. As of March 31, the two companies guaranteed $3.06 trillion in home loans.
Mayopoulos is set to take home a pay package for this year worth up to $2.7 million, though beginning next year, his pay will consist solely of a $600,000 base salary, after lawmakers pressured Fannie and Freddie in recent months to reduce executive pay. Mayopoulos will still be due deferred salary and incentives that he has already earned but are payable next year.
Edward DeMarco, the head of the Federal Housing Finance Agency, which oversees Fannie and Freddie, said Mayopoulos would lead efforts to "continue strengthening Fannie Mae and provide critical foreclosure prevention services as we build the foundation for the secondary mortgage market of the future."
Mayopoulos previously served as executive vice president and general counsel at Bank of America (BAC, Fortune 500). In late 2008, however, he was ousted amid the bank's chaotic acquisition of Merrill Lynch.
BofA spokesman Lawrence Grayson declined to comment on the incident.
In December, the Securities and Exchange Commission charged six former executives of Fannie Mae and Freddie Mac, including former Fannie CEO Daniel Mudd and former Freddie chief Richard Syron, with securities fraud. The SEC alleges that the executives misrepresented the firms' holdings of high-risk mortgage loans ahead of the financial crisis.