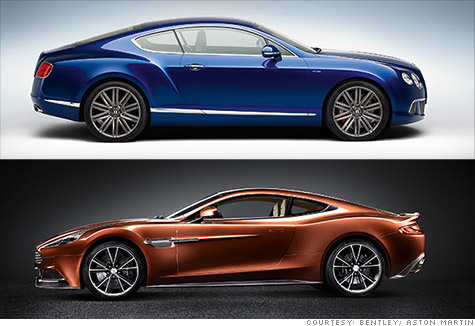 Prices for the new Bentley GT Speed coupe (top) will start at $215,000. The Aston Martin Vanquish will start at $280,000.
NEW YORK (CNNMoney) -- British ultra-luxury carmakers Bentley and Aston Martin have both recently unveiled new high-end performance cars aimed at fast drivers with extra-large bank accounts.
Bentley bills its new model, the GT Speed coupe as the fastest Bentley production car ever. With its 616 horsepower 6.0-liter 12-cylinder turbocharged engine, it's capable of speeds up to 205 miles per hour. The car can go from zero to 60 miles per hour in four seconds, according to Bentley.
The higher top speed, compared to the current Bentley Continental GT Supersports, comes thanks to improved aerodynamics, according to Bentley. Performance and fuel economy are also helped by a new 8-speed automatic transmission. The car rides on 21-inch wheels and has performance-tuned steering and suspension with a lowered ride-height for better cornering.
Prices for the GT Speed coupe will start at $215,000 making it considerably less expensive than the racier-looking GT Supersport. A new version of the Supersport with the 8-speed transmission is expected to be revealed later. That car should surpass the GT Speed in both price and performance.
Aston Martin's new model, the Vanquish, will be the brand's new top-of-the-line sports car.
Like the new Bentley, the Aston Martin Vanquish will also get to 60 miles per hour in roughly 4 seconds with a 565 horsepower 6.0-liter V12 engine. It will have a top speed of 183 miles per hour.
The Vanquish name was last on a model that went out of production in 2007.
Vanquish prices will start at about $280,000 when the car goes on sale early next year. It will be the most expensive Aston Martin available in the U.S.