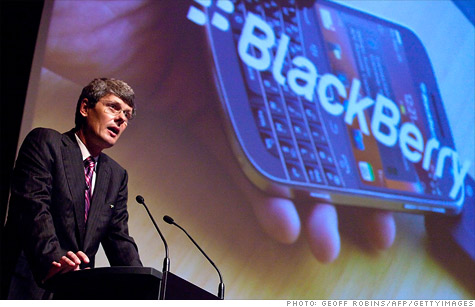 RIM CEO Thorsten Heins faced only mild criticism at the company's annual shareholder meeting.
WATERLOO, Ontario†(CNNMoney) -- Shares of BlackBerry maker Research in Motion are down 50% this year, and the company is bleeding cash. That's usually enough to make shareholders grab pitchforks, but RIM's annual meeting on Tuesday was a remarkably quiet affair.
The gathering at Wilfrid Laurier University in the company's hometown of Waterloo, Ontario, drew a small and sympathetic crowd. Both before and during the meeting, attendees took only gentle jabs at their ailing local icon.
As one shareholder told the media mob that formed before the meeting: "I'm from Kitchener [the town adjacent to Waterloo]. You're not going to make me say anything bad about RIM."
Fred, a Kitchener resident who declined to give his last name, conceded before the meeting that he's "a little disappointed" in how the past year has gone, but he plans to "hang on to the stock either way."
That hometown pride set the tone for the meeting's vitriol-free question-and-answer session, which followed comments from executives.
Barbara Stymiest, the new chairwoman of RIM's board of directors, kicked off the meeting by acknowledging the company's terrible year: "The company's performance ... does not represent what we feel RIM can achieve."
Shares of RIM (RIMM) have erased almost half their value in 2012 alone, ending Monday at $7.67. They continued sliding Tuesday after RIM's shareholder meeting, trading down nearly 6%.
Board members: One shareholder stood in the middle of Stymiest's comments to ask a question about some board members' experience -- or lack thereof -- in tech and another fields. The question came from Vic Alboini, the CEO of Canadian activist shareholder group Jaguar Financial.
"We understand the gaps the board has," Stymiest replied. The board is seeking future directors with "certain skills," she added.
Shareholders then voted to confirm all of the board members on the ballot, including new CEO Thorsten Heins and former co-CEO Mike Lazaridis.
When Heins took the stage for his first annual meeting as CEO, he offered almost an exact replay of his prepared remarks following RIM's brutal first-quarter results last month. Some of his lines on Tuesday were taken verbatim from his earlier script.
"We are working around the clock to successfully complete the transition path we are on," Heins said.
BlackBerry 10: Heins assured the audience that the BlackBerry 10 operating system "remains the No. 1 priority."
BlackBerry 10 (which RIM first announced in October as "BBX" before a lawsuit over the system's name) had been slated for release later this year. It was meant to be the saving grace for RIM -- but now it won't hit the market until the first quarter of 2013.
Some critics don't think the company will survive long enough to launch the OS.
Heins insisted that BlackBerry 10 will shine once it finally arrives.
"I will not deliver a platform ... that is not ready to meet needs of our customers," he said. "There will be no compromise on this issue."
RIM plans to release an all-touchscreen BlackBerry 10 device first, followed by a QWERTY keyboard phone.
Heins closed his prepared comments by reviewing RIM's strategy plans, which include licensing BlackBerry 10 to others and consolidating its external manufacturing sites. RIM is trying to cut $1 billion in costs by the end of 2013, and has already slashed $300 million from its budget.
Heins also praised RIM's hefty wallet: It has $2.2 billion in cash on hand. But considering the company lost $518 million last quarter, that stockpile could disappear quickly.
Quiet Q&A: Most shareholders who stepped up to the microphone for questions seemed loath to ask tough questions or criticize their hometown heroes.
"I wish Mr. Heins all the success in the world," one man said, emphasizing that he's supportive of the new board members.
But he also said he is "extraordinarily critical" of the directors who have been around longer, accusing them of waiting too long to address issues.
"Was there a question there, sir?" Stymiest asked as audience members applauded the man's comments.
Beyond that small drama, the Q&A session proceeded quietly. RIM emerged from the meeting with few shareholder-inflicted bruises.
David Remage, a shareholder who lingered outside of the university after the meeting, said he was generally happy with the meeting and with RIM. He shrugged off issues like the BlackBerry 10 delay, saying he's "not too upset, because in 2013, the network will be ready for it."
He plans to stay with RIM for the long haul.
"Am I going to sell my shares? No," Remage said. "In fact, I might even buy more."