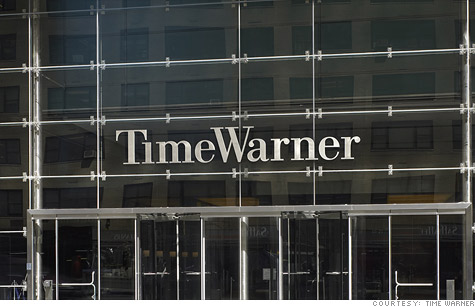 Time Warner earnings fell despite improved results at its networks unit.
NEW YORK (CNNMoney) -- Media conglomerate Time Warner reported reduced second-quarter revenue and earnings Wednesday despite improved results at its television networks unit.
The New York-based company reported a 10.8% drop in adjusted income to $576 million, or 59 cents a share. Including special items, such as charges for shutting some operations in Turkey and India, net income fell even more sharply, dropping 32.6%, while revenue was off 4.1% to $6.7 billion.
Still, the results were enough to beat earnings forecasts of 58 cents a share, according to analysts surveyed by Thomson Reuters.
The company, the parent of CNNMoney, posted revenue and operating income gains in its networks unit, its largest division that includes HBO and Turner Broadcasting. Viewership at TBS jumped 37% over a year ago, helped by the popularity of "The Big Bang Theory," which was the most popular sitcom on cable.
Time Warner also cited strong ratings of NBA games it carried and the success of some new shows on TNT, such as "Dallas" and "Perception," which it said are cable's top two new series.
The networks unit's revenue and earnings growth were diminished in part by declines at the company's domestic news networks, which include CNN.
But results were not as good at the film and TV entertainment unit, which is primarily composed of Warner Bros. Revenue and income both declined slightly because there was no major box office hit in the quarter, while the year-ago quarter included several big hits including "The Hangover, Part 2."
The studio's big film debut of 2012, "The Dark Knight Rises," did not open until the third quarter.
Results also continued to lag in the publishing division that is centered around magazine publisher Time Inc., as both advertising and subscription revenue fell, cutting profits nearly in half.
Despite the drop in earnings and revenue, the company reaffirmed its forecast for full-year earnings, saying that adjusted income should post a "low double digit" percentage rise. Analysts are forecasting an 11% increase in earnings.
Warner Bros.' movie "The Dark Knight Rises," which hit theaters July 20, pulled in worldwide box office of $543 million through its first 11 days, according to tracking service Box Office Mojo.
But after 12 people were killed in a shooting at a midnight showing of the film in Colorado, its opening weekend domestic box office of $160.9 million was a bit below some analysts' forecasts.
It also trailed the early box office for the previous film in the series, "The Dark Knight," which came out four years ago, as well as that of Walt Disney's "The Avengers," which set a record for opening weekend box office earlier this year.
Shares of Time Warner (TWX, Fortune 500) were little changed in premarket trading following the report. Its shares have gained 8% so far this year, but trail the performance of rival media companies Disney (DIS, Fortune 500) and News Corp. (NWS), which are both up more than 27% so far this year.