J.D. Power asked new car owners to rate everything they loved and hated about their cars. Here are the ones that scored the highest.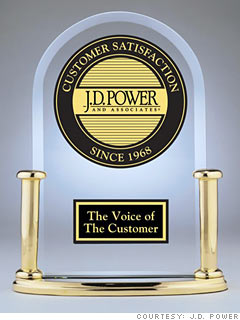 J.D. Power and Associate's annual Automotive Performance Execution and Layout (APEAL) survey measures just how much owners like their brand-new cars.
Buyers are surveyed within 90 days of purchasing their new autos. They're asked about 80 different vehicle attributes. Historically, cars that score high on this survey tend to sell well without needing heavy incentives, according to J.D. Power.
For the first time in the survey's 13 years history, the average total score dropped slightly. The average this year was 770 on a 1,000-point scale, down 2 points from last year.
The biggest single reason? Disappointment with fuel economy.
"Even though more consumers are now achieving the gas mileage they expect compared with previous years," said David Sargent, vice president of automotive research for J.D. Power, "the increased cost of filling their vehicles still leads to a greater level of dissatisfaction with fuel economy than in the past."
NEXT: Sub-compact
Last updated June 26 2008: 1:53 PM ET
Email
|
Print
|

Digg this story
|

RSS