With gas prices soaring, plugging in has its appeal. But there are trade-offs: high costs and low speed.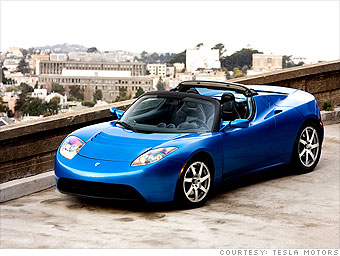 Cost: $109,000
Charge time: 3.5 hours
Range: 220 miles
Top speed: 125 mph
The Tesla Roadster, which recently entered production, is probably the best known electric car in America. The company's president has called it "the only production electric car for sale in the United States."
There are several other electric car companies that would differ with him on that point, but those other vehicles are either limited to speeds below 25 miles per hour or have fewer than four wheels, making their status as "cars" somewhat debatable.
With a full set of wheels and a claimed top speed of 125 mph, there's no question this two-seat convertible is a real car. Tesla also boasts an amazing 220-mile range on a full charge as measured in EPA fuel economy tests.
Meanwhile, the charging time claimed by Tesla is less than half that of other electric vehicles, thanks to advanced lithium-ion batteries -- which do account for much of the car's high cost.
But even gasoline-powered two-seat soft-tops are luxury toys, not daily drivers. Tesla promises it is working hard on a more moderately priced four-door model for driving's other half.
NEXT: GEM Car
Last updated June 18 2008: 10:14 AM ET
Email
|
Print
|

Digg this story
|

RSS