Forget about those retro-fitted Crown Victorias and Impalas. Carbon Motors hopes to build a better police cruiser for the future.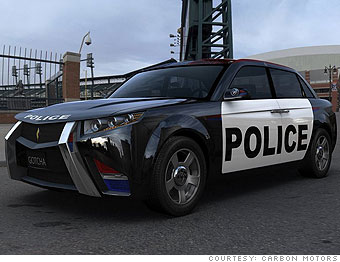 Trash collectors drive trash trucks and ambulance drivers drive ambulances. Police, on the other hand, drive cars primarily designed for civilian use that have been loaded down with bolted-on police equipment.
Decades ago, that was fine, says William Santana Li, a former Ford Motor Co. executive who now heads an Atlanta-based company called Carbon Motors.
But today's police cars are jammed full of computer equipment, speed detection equipment, weapons, surveillance equipment and other heavy and complex machinery.
And that's just on the inside. On the outside, special bumper bars and lights get tacked on and -- in some cases -- special fire suppression equipment.
Carbon Motors thinks it can offer something better than the retro-fitted Ford Crown Victorias, Chevrolet Impalas and Dodge Magnums most police officers now drive. Li adds that the Carbon E7, the car's working name, will cost police departments no more than the fully equipped cars they now drive.
On top of all that, the E7 will be stronger, faster, tougher and more fuel-efficient, the company claims. So far, about 650 police departments have expressed interest in the car, Li says, even though production isn't expected to begin before 2012.
NEXT: Pursuit of efficiency
Last updated July 01 2008: 11:34 PM ET
Email
|
Print
|

Digg this story
|

RSS