Americas top-selling car companies have plans to bring plug-in technology mainstream. Here's what they're working on.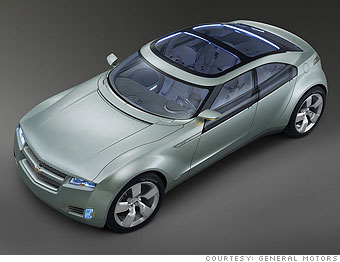 General Motors is sticking to its guns, insisting that the Chevrolet Volt will be ready for production by 2010. If GM can produce this vehicle on time and in significant numbers - and it works well and reliably - the Volt will stand as a milestone in automotive technology.
But if it doesn't turn out well, GM could stand accused of "killing the electric car" again.
The Volt is not a hybrid car. It will run entirely on electricity. Unlike other electric cars, though, it will not conk out if the battery runs low before stopping to charge. A small on-board gasoline engine will run as a generator to charge the batteries and keep the car moving.
The Volt is expected to go about 40 miles before that needs to happen and most drivers should be able to go most days without using a drop of gas.
Don't expect the Volt to look just like this concept version. The final car will have a more rounded front end look and a sharper-edged tail.
NEXT: Saturn Vue Plug-in Hybrid
Last updated July 07 2008: 5:33 AM ET
Email
|
Print
|

Digg this story
|

RSS