Fuel mileage is front and center as Chevy's classic muscle car gets a makeover for the "green" generation.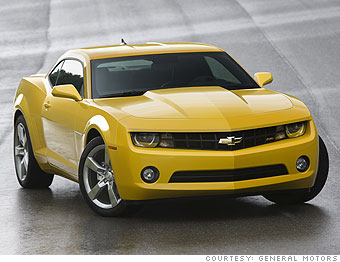 When unveiling new performance models, car companies usually boast about horsepower, engine size and expected zero-to-60 times.
But when General Motors unveiled the 2010 Chevrolet Camaro Monday afternoon, it was the car's fuel economy numbers that were front and center.
It's the return of a once-popular model that has been out of production since the 2002 model year. V6 versions, which GM expects will be the biggest sellers, are expected to get 26 miles per gallon on the highway. That's about the same as a V6 Ford Mustang, while boasting the same horsepower output as a V8 Mustang.
The Camaro SS, powered by a 6.2-liter V8 engine, will get about 23 mpg on the highway, according to GM. Again, that matches the V8 Mustang GT with up to 40% more power. (The Camaro will be a heavier car than the Mustang, however.)
Of course, since this is a Camaro, GM also touted the car's performance credentials while also offering a first glimpse of its retro-styled interior.
NEXT: Cockpit flies back to the '60s
Last updated July 21 2008: 4:07 PM ET
Email
|
Print
|

Digg this story
|

RSS