Automakers have made progress on dependability, according to the research group, but there's still room for improvement.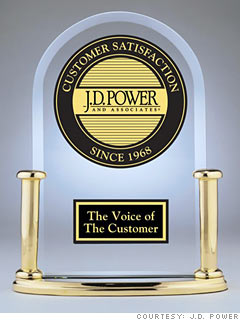 While vehicle dependability has improved, certain problem areas remain and automakers can do more, according to a study by industry research group J.D. Power and Associates.
The 2008 Vehicle Dependability Study measured problems reported by more than 52,000 original owners of cars and light trucks after 3 years of ownership and covered 147 specific problem symptoms.
Long-term vehicle quality improved 5% industry-wide in 2008, according J.D. Power.
Of the 19 categories in the study, the midsize premium SUV segment showed the most improvement in the year.
The compact car and midsize car categories also registered fewer problems, accounting for more than half of the overall industry improvement.
"The gains in dependability for compact and midsize vehicles are good news for consumers who are downsizing their vehicles due to increasing fuel prices," David Sargent, vice president of automotive research at J.D. Power and Associates, said in a statement.
The study also showed that five of the top 10 problems were among the 10 most frequently reported problems in a similar study done 3 years ago.
The problems include: excessive wind noise, noisy brakes, vehicle pulling to the left or right, issues with the instrument panel or dashboard and excessive window fogging.
NEXT: Overall winner: Lexus
Last updated August 07 2008: 11:54 AM ET
Email
|
Print
|

Digg this story
|

RSS