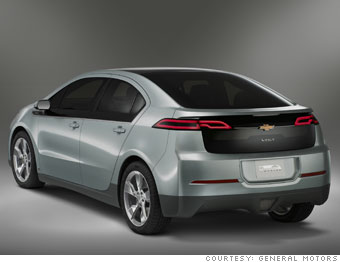 A wing incorporated into the trailing edge of the roof also helps to smooth airflow helping fuel economy.
The center controls on the car are electronic rather than relying on mechanical knobs and switches, giving the interior a more futuristic look. Other electrical features on the car are designed to, in the final analysis, save electric power. The car will have power windows and heated seats because, otherwise, people might overuse the car's climate control system, a GM spokesman said.
The Volt will have a central display screen - similar to one in a Toyota Prius hybrid - that will show how the car is using electric power, when the batteries are being charged and whether the gasoline engine is turned on.
This first-generation Chevy Volt is expected to be fairly expensive, Posawatz conceded. (Some reports have put the price at $40,000.) But GM is not looking to make much money, if any, on the car, he said.
GM is expecting to produce at least 10,000 Volts in the car's first year and higher numbers after that, he said.

NEXT

Last updated September 25 2008: 3:41 PM ET
Email
|
Print
|

Digg this story
|

RSS