If Chrysler, Ford and GM can get through their mess, these are the products they hope will pull them out to the other side.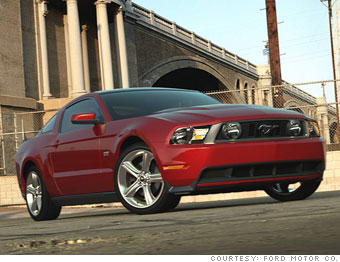 Among the Big Three automakers, Ford Motor Co. is thought to be the strongest financially. That may be one reason why Ford is the only one to roll out significant new models at this year's Los Angeles Auto Show.
The redesigned Ford Mustang may not be the most advanced car the automaker revealed in L.A. but it will likely turn the most heads.
But this isn't really a thoroughly new Mustang. You don't stay afloat in a tough economy by spending loads of unnecessary cash, so the new version keeps a lot of engineering from the old one and piles on the upgrades.
The outside sheet-metal, other than the roof, is all new. The interior also has nicer materials than the rock-hard plastics used in the current model.
The new Mustang still has a solid rear axle rather than the independent rear suspension most cars have today. The engine is largely the same, but power for the V8 has been bumped up to 315 horsepower from 300.
The suspension has been improved to provide both better ride-quality and handling, Ford says. Most importantly, electric stability control is available on a Mustang for the first time. It's a safety feature that helps the driver maintain control during emergency maneuvers.
All of this will probably be enough to keep Mustang fans coming back for more - which is what really counts in the end.
NEXT: Chevrolet Camaro
Last updated November 24 2008: 2:50 PM ET
Email
|
Print
|

Digg this story
|

RSS