Gunite Supply & Equipment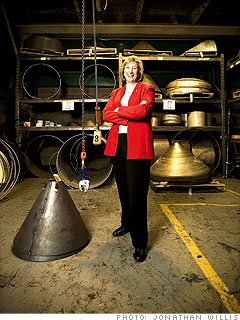 The slump in home construction caused a 24% drop in sales last year for
Gunite Supply & Equipment
, which makes the tools for handling gunite, a concrete mix that is shot through a hose and used as a protective coating for in-ground swimming pools.
Gunite Supply is owned by Cincinnati-based Mesa Industries, and its revenue shortfall would be enough to sink many a small conglomerate. But Mesa instead saw overall sales rise by 29% last year, to $22 million - thanks to its sustained commitment to strategic diversification.
During the housing boom, Gunite Supply led Mesa Industries' expansion, racking up a 19% increase in equipment sales in 2004. But over the past 18 months, as Gunite Supply's business slowed down, revenue at Mesa's rubber-products division picked up the slack, thanks to new contracts supplying the booming Chinese petroleum industry with seal and drain systems.
"The rubber company is our gift at the moment," says Mesa Industries CEO Terry Segerberg, 53. "We've been blessed by having a diverse set of companies that react differently to outside influences.'

More galleries