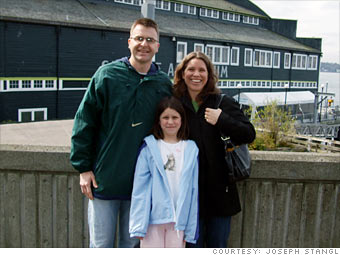 Joseph, 34, Pastor of financial planning
Jenn, 33, Stay-at-home mom
Anderson, S.C.
The Moment: Six years ago, Joseph Sangl had what he calls his "I Have Had Enough" moment. Twice before, he and his wife, Jenn, had paid off thousands in credit-card debt, yet again they faced a $6,000 balance.
On this night, sitting in a hotel room in Indiana, where Joseph was about to start a new job, the couple seized the moment. They cut up their cards and vowed never to charge again.
The Method: At the start of every month, they put enough cash in envelopes for each part of their budget: groceries, entertainment and so on.
Best Tip: Use cash to negotiate. The Sangls recently needed a new refrigerator and didn't want to spend more than $800. Joseph walked into Best Buy with $800 in cash and left the owner of a $1,000 fridge.
New Life: Joseph quit his job as a mechanical engineer in 2006 and created the position of pastor of financial planning at the church he helped found. He also blogs and is the author of "I Was Broke, Now I'm Not," published in January 2008.

NEXT: Henry Blaufox and Tabitha Gilmore-Barnes

Last updated June 18 2008: 1:55 PM ET
Email
|
Print
|

Digg this story
|

RSS