Four free Web sites give you an instant big picture on your saving, spending and retirement portfolio. But only one is the best.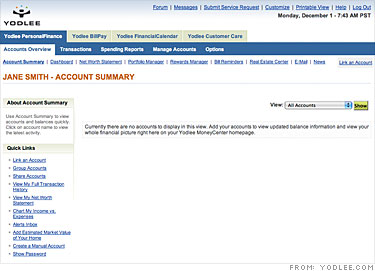 What it tracks: Bank accounts, credit cards, investments, loans, frequent-flier miles, real estate
Ease of use: The interface is clean but boring. It gets the job done.
What's best: Compatible with many kinds of accounts and serves up the info in a very direct way
What's worst: Lack of eye candy, and it's hard to find the information to help you better manage your finances
The bottom line: This is facts without the frills. But it is also the most comprehensive of the sites tested.
Rating: ★★★

NEXT: Solid customer support

Last updated December 02 2008: 10:08 AM ET
Email
|
Print
|

Digg this story
|

RSS