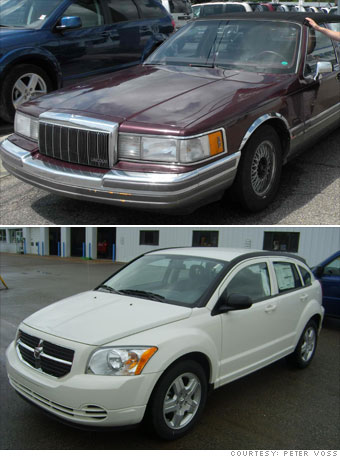 Pete Voss, of Traverse City, Mich., swapped his Town Car for a Dodge Caliber.
Traded: 1990 Lincoln Town Car (18 mpg)
Bought: 2009 Dodge Caliber (27 mpg)
When Chrysler announced it would match the Cash for Clunkers program, my family reached a threshold for our first-ever new car purchase. We'd spent weeks test-driving older cars, and we were tired of rust spots and funky-smelling interiors.
This program was the catalyst for us -- and many others, it seems. Almost all 2009 models at our dealer were spoken for by 3 p.m. the day we went. We got our Dodge for $9,500 -- more than 50% off the invoice price.
I mourned a bit for the old cars that might have some useful life left. But we would've never been able to sell the Town Car for as much as the trade-in. It had already cost us $500 in maintenance for this year -- which included $250 for exhaust pipes installed just a few days before the trade. Fresh steel for the scrap yard, and another hole in my wallet!

NEXT: Sterling Brooks: Too old for clunkerdom