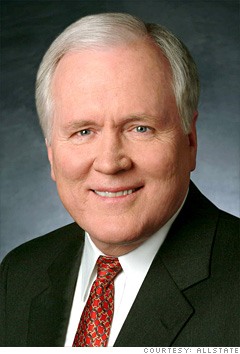 Former chairman and CEO, AIG
The former Allstate CEO signed on to revive the ailing insurance giant after its $84 billion rescue by the U.S. government in September 2008.
But Liddy quickly made headlines for his clashes with legislators on Capitol Hill, starting with his defense of an extravagant company retreat held shortly after the government bailout. Then came well-publicized attacks over employee bonuses.
By May, after only eight months on the job, Liddy had had enough of being lambasted by the government and the blogosphere, only 50% of which had positive things to say about him -- earning him one of the lowest scores in Zeta's buzz survey.
He resigned his position, but stuck around until August, when former MetLife boss Robert Benmosche stepped in as CEO.
NEXT: Worst: Jamie Dimon
Last updated December 30 2009: 2:06 PM ET
How it was done: Zeta's technology mines the online media landscape -- including millions of blogs, message boards, and social media posts -- and then uses algorithms to measure both the volume and tone of conversations about a given subject -- in this case, the CEOs of Fortune 500 companies. Rankings are based on the percentage of total chatter about a given CEO that is qualified as positive.