We looked at Money's top 100 Best Places to Live and found these lucky towns that also enjoy jobless rates far below the 10% national average.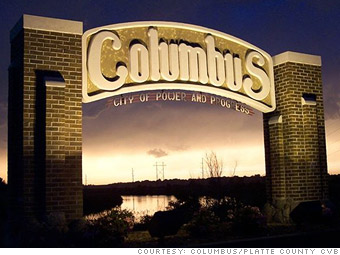 Towns include: Columbus
Best Places to Live rank:
99
Unemployment rate:
4%
New technologies and an old-fashioned way of life intersect in Platte. The large manufacturing base still remains intact, thanks to the support of new businesses drawn to the area's low wage rates, electricity prices and inexpensive real estate.
Today, folks are largely employed by medical equipment company Becton Dickinson, Behlen Manufacturing and Archer Daniels Midland, which runs an ethanol plant there.
"Before this recession we had 1,000 jobs open that we couldn't fill and we were going out and recruiting people. Right now we have about 200 jobs open. It's certainly not as bad as other parts of the country," said Columbus Mayor Mike Moser.
NEXT: Sarpy County, Neb.
Last updated December 30 2009: 7:51 AM ET
BLS unemployment data is from October, the most recent available.