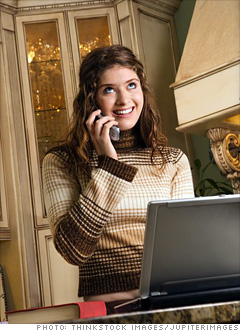 Keep your phone on vibrate. Your officemates notice your ring tone -- especially if it's particularly loud and annoying.
"You would see five or six people who sat around her look at her and roll their eyes," says Richard O'Malley, remembering a former receptionist whose ring tone for her boyfriend was a Jonas Brothers song.
At the sound of the boy-band melody, the woman would leave her desk to take the call. "It wound up working against her because everyone knew that she was slacking off," says O'Malley, who now runs his own event-planning business, The O'Malley Project
Eventually she was let go. And even though her ring tone wasn't specifically at fault, it didn't help. "There were several minor things that built up," says O'Malley.
"If you are the person who has the stupid cell phone ring, everyone has noticed it already. Turn it down."

NEXT: Do! Save smiley faces for Mom