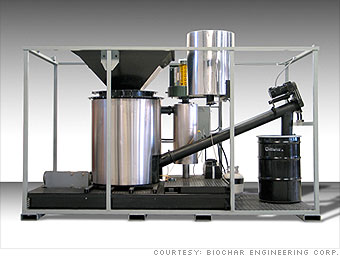 Currently farmers, foresters, and others that dispose of plants and trees usually leave them in the field to rot, or they burn them. Both those actions release carbon into the atmosphere.
How it works: This plan calls for farmers and the like to feed their waste into a machine that turns it into charcoal, seen here. The charcoal - or biochar - is then buried in the soil.
That would keep up to 40% of the carbon in the plant out of the atmosphere, and make the soil richer at the same time, said Jim Fournier, president of Biochar Engineering Corp.
Why it might not work: Questions remain over whether biochar could absorb enough carbon to make a difference in global warming.

NEXT: Hurricane-killing wave pump